Whole house fans are a cheaper and more energy-effective alternative to HVAC systems, and are used across the country for cooling and ventilation. If you are looking to buy one, it is better to go for a whole house fan made in the USA because they comply with American standards of health and safety.
Investing in a fan made in the U.S. also means you are supporting local business and helping secure local jobs.
This article takes you through the different types of whole house fans available, and recommends some models made here in the U.S. for you to consider buying.
Types Of Whole House Fans
A whole house fan is basically an electrical appliance that uses the principle of convection to make a home cleaner and cooler.
Convection describes the fact warm air, which has fast-moving molecules, will rise up toward the ceiling, while cool air will sink.
Whole house fans pull cool air into the room through open windows and doors, which in turn pushes the hot, stale air out of the room. This process continues in a loop, and the temperature in your home can be reduced up to 30 degrees.
Here, it's important to mention that whole house fans are often confused with attic fans. Whole house and attic fans are similar, but not the same.
Remember that while whole house fans circulate air throughout the house, the attic fans move air inside the attic only. Attic fans can only lower the temperature by 10 degrees.
Whole house fans come in three main types:
1. Standard
Standard fans are box fans installed on walls or attic floors. They have dampers that remain shut when the fan is not in use but push air outside once you turn the fan on.
2. Ducted
Ducted fans have fans at one end and insulated ducts on the other. While the fan is installed in the attic, the duct is kept in the finished space.
Ducted fans are installed at a distance from the main living space, which also means they are whisper-quiet when running.
3. Insulated
These fans come with insulated doors that open only when the fan is in use. This helps maintain a cool indoor environment even when the fan is turned off.
Whole House Fans Buying Guide
Before we get to the list of whole house fans made in the U.S, it's important to know what factors you should consider when buying one.
Size
The most important factor when deciding on a whole house fan is its size and coverage. These fans are rated according to the CFM (cubic feet per minute) of space they can circulate the air.
Understandably, for larger houses, you would need a high CFM fan. As a general rule of thumb, multiply your home's area (in sq. ft.) by 3 to calculate the appropriate fan size.
Installation Method
The next thing to consider when selecting a whole house fan is its installation method. Whole house fans come in direct-drive and belt-drive units.
Direct-drive fans do not require you to cut attic joists to make space for the fan, and you can usually, easily place it yourself.
Belt-drive units, on the other hand, have a pulley system and are more complicated to install, and you will probably need a professional to do it.
However, belt-drive units are also quieter in comparison to the direct-drive system.
Other Properties
Other things you should check for when buying a whole house fan are whisper-quiet operation, shutter quality, thermostat, and timer controls.
Whole House Fans Made In The USA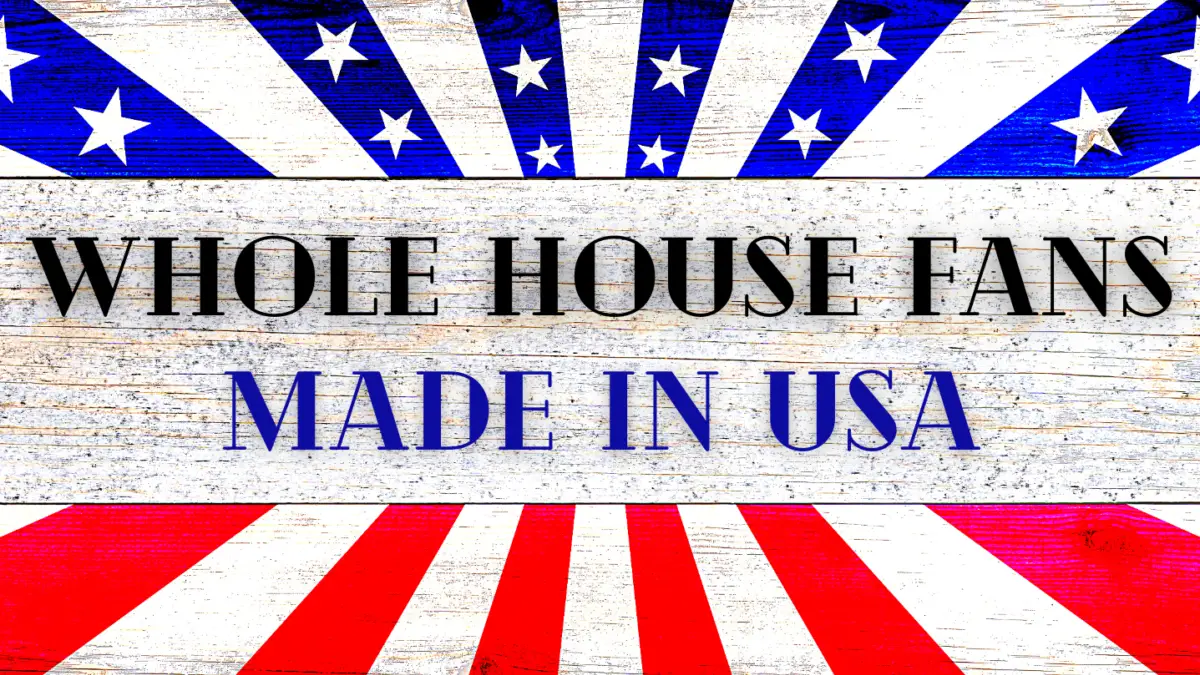 Okay… Here are the whole house fans made in America:
Tamarack Technologies Ductless Whole House Fan
First up, we have the HV1000 R38 Ductless Whole House Fan by Tamarack Technologies. This ductless model comes with R38 insulated doors that close automatically once you turn off the fan, preventing the cool air from escaping outside.
The HV1000 R38 is a great, budget-friendly option with which you can save bucks on both buying costs and your electricity bill. With 1000 CFM, this unit covers 1200 sq. ft. of the area and generates sufficient power to effectively remove stale air, odor, airborne contaminants, and germs from the space.
This unit is also fairly straight-forward to installation. You can easily mount it on the attic floor or attach it vertically to the wall. It weighs only 20 pounds, which makes it easy for you to install without getting professional assistance.
Bear in mind that this model is only suitable for small spaces. Since 1000 CFM is not high-power, the HV1000 R38 won't work effectively in large homes, basements, or offices.
Pros
Low-cost
Easy installation
Lightweight
Insulates the room when fan is not in use
QuietCool Energy Saver Fan Classic Line Model
QuietCool is a renowned American brand, and the QC ES-4700 Energy Saver Fan Classic Line Model is their most popular whole house fan. This 4195 CFM corded model covers an extensive area of up to 2250 sq. ft. and is, therefore, suitable for large homes, basements, and office spaces.
The button controls allow you to easily set up and use the fan. The QC ES-4700 is a ducted damper system that hangs in the attic. It's patented construction provides whisper-quiet operation.
The system even has barometric pressurized gravity dampers that remain shut when the fan is not in use. This seals the cold air inside the room, keeping your home cooler for longer.
The electronically commutated brushless AC/DC motor means energy consumption is low, which significantly reduces the cost of your electricity bill.
Pros
Extensive coverage
Damper system
Low power consumption
Whisper-quiet functioning
Broan-NuTone 353 Gable Mount Attic And Garage Ventilation Fan
Broan-NuTone is a popular manufacturer dealing in whole house fans, and this list features their 353 Gable Mount And Garage Ventilation Fan.
This fan is designed for gable mounting, i.e., you can attach it to your attic for ventilation. With 760 CFM, this unit is a great option for maintaining a cool and clean environment in small spaces. This unit is built for housing that measures 15″x8″ in diameter.
Even with low CFM, its precision-balanced 14" metal blades allow maximum airflow. At the same time, the galvanized steel housing protects the unit, enabling it to bear the generated pressure.
It prevents the buildup of heat, which eventually lowers indoor humidity, giving you an adequately dry environment.
The built-in thermostat is another plus. You can set the desired temperature, and the fan will temporarily stop working once the preset level is attained to keep the indoor environment comfortable.
Pros
Built-in thermostat
Efficient airflow in small spaces
Protective steel housing
Easy installation
Air King Whole House Window Fan
The 9166F 20" Whole House Window Fan by Air King is the next product on our list. This is a three-speed device that is front mounted on a window with a rotary switch. 
It fits into window openings measuring 27″ to 38″ in width, and with 3560 CFM, it is a perfect choice for large rooms. The unit is corded, and its long, 7-foot, 3-conductor, SJT-type cord connects to a 120V power supply to operate.
You can choose from either of the three-speed options, i.e., 1600 RPM, 1450 RPM, or 1100 RPM. These are marked high, mid, and low, respectively, on the device and regulate the rotatory speed of the fan. This speed decides the rate of cooling and ventilation in the room.
The noise levels vary for each of the three fan speeds, i.e., 64, 47, and 50 dB at high, mid, and low. But, all of these noise levels are below that of a normal conversation, so it's not a loud fan.
The energy consumption is also proportional to the fan speed, which is why you should carefully evaluate the level of indoor hot, and stale air and select the speed accordingly.
Pros
High CFM
Three fan speed options
Low noise at low fan speed
Low energy use
Please be aware that Amazon incorrectly has this product listed as "made in China". We have confirmed with the manufacturer that these whole house fans are made in the U.S.
QA-Deluxe 5500(W) Energy Efficient Whole House Fan By Centric Air
Next up, we have the QA-Deluxe 5500(W) Whole House Fan by Centric Air. This is an insulated damper fan that covers an extensive 3400 sq. ft. area (for two-story homes) and 2400 sq. ft. (for single-story homes). Therefore, it is perfect for large houses and office spaces.
The insulation forms an efficient seal between indoor and outdoor environments when the fan is not in use. This keeps your home cool all day long, even when the fan is not running.
QA-Deluxe 5500(W) can run at two speeds, which are controlled via a wall switch. You can also benefit from the built-in timer that allows you to set a specific number of hours, after which the fan automatically turns off.
The fan is low-cost and energy-efficient; however, it comes with its own set of disadvantages, such as 51 dB noise when running and lack of remote control (which usually comes with models that offer similar large coverage).
Pros
Large coverage
Built-in timer
Low cost
Dual fan speed
Triangle Comfort Cooler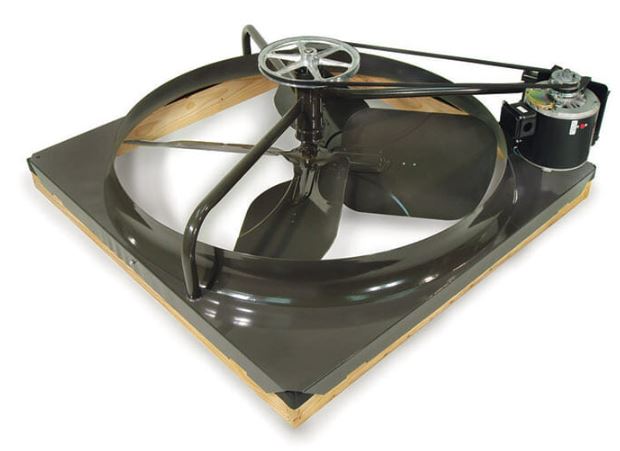 Next on the US-original whole house fans list, we have the Triangle Comfort Cooler. This is a cost-efficient unit in terms of energy consumption. It features all-welded construction that enables whisper-quiet operation.
Being a belt-driven unit, you might have to get a professional to install the fan. The high-quality belt tensioner secures the fan in place.
Once installed properly, you can enjoy smooth and quiet air circulation cycles that cool down your indoors 5 to 10 times faster than HVAC systems. The noise-free working is enabled by the unit's pulley system, as well as the 1″x4″ wood frame that has rubber vibration and noise dampeners.
You can set up the fan speed via a wall switch. The unit also comes with a 12-hour optional timer that is sold separately. This timer can be used to automate the running time of the fan.
For more efficient working and customization, you can purchase Triangle's original thermostat and ceiling shutter (AS series standard or CSS series no-cut joist).
The cooler comes in seven different models that you can check out on the linked site. Each cooler offers different coverage, ranging from 800 CFM upwards.
Pros
Fast cooling
12-hour timer
Can connect to an external thermostat and ceiling shutter
Noise dampeners allow low-noise functioning
AIRTITAN T7 Ventilation Fan
AC Infinity is an American company headquartered in California. Although their whole range of whole house fans is vouched for by customers, AIRTITAN T7 Ventilation Fan is a particularly popular model.
If you're looking for an inexpensive yet higher efficiency model (in comparison to others in the same price range), AIRTITAN T7 should be your go-to.
This is a 240 CFM appliance. Even though this value is at a lower range of the spectrum, it generates enough air pressure to ventilate small rooms.
In areas measuring a compatible size, this unit can effectively control moisture and temperature, especially in crawl spaces and creases. This significantly reduces the risk of the growth of mold and other germs that thrive in moisture and generally build up in small spaces.
The unit comes with a programmable controller with a corded probe that allows you to adjust the airflow to different speeds, which controls the temperature and humidity.
Apart from stale air, the low humidity also enables the expulsion of foul smells, VOCs, and other gaseous airborne contaminants, which otherwise pose a serious health risk.
The unit comes with dual ball bearings, and the belt-driven setup requires professional installation. However, it gives you the benefit of low-noise operation, i.e., 32 dB. This is crucial for low-coverage devices since they are usually installed close to the sleeping area.
As a corded unit, this device requires a constant power supply of 120V to run.
Pros
Budget-friendly
Remote control
Low noise operation
Less power consumption
Cool Attic CX30DDWT 2-Speed Whole House Attic Fan
The last USA-made product on our list is CX30DDWT by Cool Attic. In the past few years, Cool Attic has introduced several excellent whole house and attic fans, all of which are known for high efficiency.
This is a 2-in-1 attic and whole house fan. The whole house fan covers 1,800 sq. ft. and is a dual-speed model, each with a different noise level and ventilation rate.
On the other hand, the attic fan pulls in fresh air from the outside and propels warm, stale attic air to the outside, ensuring a fresh and healthy indoor environment at all times.
One of the best features of this unit is easy installation. As a direct drive model, you can easily mount the fan in the attic without having to consult a professional.
The company takes pride in being US-original and makes sure to keep up with high-quality standards. Even though this model is expensive in comparison to others of the same size, its manufacturing does not involve any cheap parts or cut corners, which enhances its performance and improves its optimal lifespan.
This model has been re-engineered by the manufacturers to create a more stable motor mount, stronger than the previous tube style bracing.
Pros
Attic and whole house fan combo
Dual-speed
Large coverage
Long lasting