Stagnant air and humidity during hot summers or in hot surroundings are distinctly unpleasant. A battery-powered fan is a great way to cool down in the heat. It's portable, power-efficient, and reliable, especially in emergencies.
Fans that run on batteries can be powered by rechargeable or disposable (single-use) batteries. Rechargeable fans have an average run-time of 3 to 24 hours depending on the fan speed, with low fan speeds the most energy efficient. While disposable battery-powered fans can run for up to 4 days on a low fan speed.
This article will take you through the different types of fans available that run on batteries and discuss the best ones currently available.
Types of fans that run on batteries
You can find various fans powered by batteries. These include compact portable fans ideal for camping, RVs, or for simply having around the home.
Battery-powered fans use either disposable and/or rechargeable batteries, and their run time can vary a great deal between brands and models. However, the biggest contributing factor that determines how long a fan can run on battery power is the fan speed(s). Fans with more than one fan speed may deplete the battery quickly when operated on the high speed option, but also give you greater choice and enjoyment on a hot day.
Fans that use rechargeable batteries can typically recharge through a standard wall outlet, a USB outlet, a power bank, or a car charger. Some of these can also run while plugged in.
Most disposable battery-powered fans also come with a cord and can run from a regular power outlet.
Read on for our exclusive list of the top battery-powered fans suitable for all sorts of occasions. Battery-powered fans are often considered small and relatively weak, however our list today uncovers an impressive line-up from small handheld fans, all the way up to industrial fans perfect for construction sites.
Scroll through the list to find the type you are most interested in, each entry details the type of battery used to power the fan, its average runtime based on its fan speed options and some pretty unique features, such as aromatherapy pads and fire-resistance materials.
Top 11 battery-operated fans
1. PureBreeze Personal Handheld Fan with Base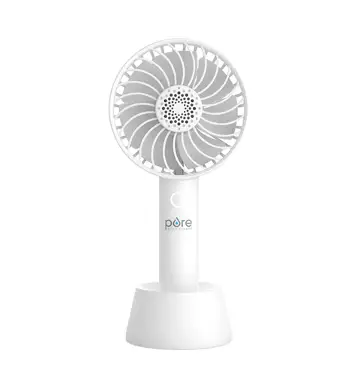 The PureBreeze Personal Handheld Fan with Base is a lightweight rechargeable battery-operated fan from Pure Enrichment.
This fan is particularly convenient thanks to its compact size and powerful performance. It features 7 blades with 3 speeds (low, medium, and high), keeping your air cool wherever you are.
The best part about this fan though, is the hands-free base that comes with it. So even though it's easily portable you can also pop it into its base wherever you are. This different speed options on this fan makes it ideal for outdoor usages, such as when grilling, a family day out, or in an RV.
It has a rechargeable lithium battery that gives you 4 hours of a cool breeze on a full charge.
It also features a quiet operation making it perfect for a study room, home office, or bedroom.
Unique features
A built-in aromatherapy tank where you can add your favorite essential oils for air diffusion. 3 Aroma pads are included in the package.
Pros
Highly portable
Doubles as a diffuser
Hands-free stand
5-year warranty
Cons
Not ideal for large areas
2. TotalComfort Rechargeable Handheld Fan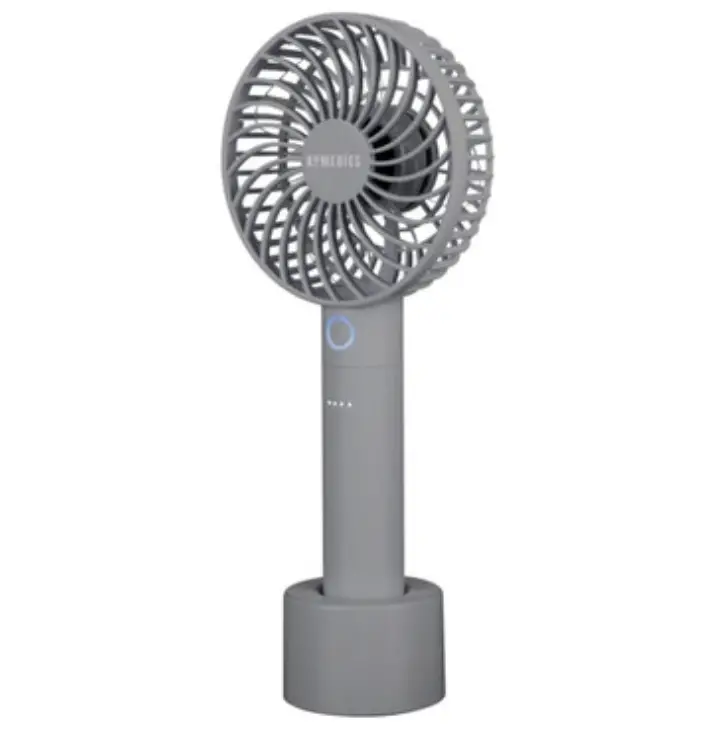 The TotalComfort Rechargeable Handheld Fan from Homedics brings the power of air cooling to the palm of your hand with its rechargeable, long-lasting lithium-ion battery.
Experience refreshing comfort with this sleekly designed 6-blade handheld fan. It features whisper-quiet operation and an impressive 5 fan speed settings to meet your preference.
One benefit of this fan over others on our list is its convenience when it comes to recharging the battery. It comes with a separate charging dock, a USB charging cord, and a rechargeable Lithium-Ion battery.
It's also lightweight and portable – you can carry it anywhere, while offering an impressive runtime of 2-8 hours (depending on your fan speed).
Unique features
A detachable power bank with three power indicators – is used to charge your smartphone.
It includes a separate charging dock in addition to the USB charging cord.
Pros
Lasting battery charge – up to 8hrs
Powerful and convenient
Quiet operation
Portable design
Cons
Not ideal for large spaces
Only handheld (not hands-free)
3. Treva Portable Desktop Air Circulation Battery Fan
Treva Portable Desktop Air Circulation Battery Fan is a compact battery-powered fan with a durable portable design. It runs on 6 D-cell batteries that are long-lasting (runs for around 3-4 days).
It's fitted with a 10-inch blade with 2 fan speeds (low and high-speed modes). These modes deliver a refreshing comfort of cool air in hot conditions. It also features a sleek, foldable, and tilted design with a built-in handle for portability.
The fan fits perfectly on table tops, and it's space-efficient. Its adjustable base brings convenience, allowing you to set the airflow direction.
Unique features
Includes an AC power adapter – allows you to choose between using batteries or a direct power source, especially indoors.
It can be folded flat for convenient storage.
Pros
Easy to use
Ideal for indoor and outdoor use
Portable design
Two power options
Cons
Limited speed modes
Batteries not included
4. Geek Aire Rechargeable Floor Fan
The Geek Aire Rechargeable Floor Fan is a true definition of powerful airflow in a compact design battery-powered fan. It has a portability handle and a freestanding design for floor mount.
While the high-capacity rechargeable battery only runs for 3hrs on high speed, it runs for an impressive 24hrs on low-speed mode. This is far longer than most other fans in this list.
It also features a powerful 16-inch blade with two-speed modes for an effective air cooling effect.
It's ideal for medium to large areas like the kitchen, garage, or even warehouses.
Unique features
Includes a power bank for charging your mobile devices like iPads, smartphones, or music players.
It includes an IPX4 water resistance protection and ABS fire-resistance material for the battery box.
A 360° adjustable tilt functionality – provides a wide cooling range.
A battery gauge indicator – tells you when it's time for a recharge.
Pros
High-quality and durable
High-velocity air circulation
Good battery runtime
User friendly
Fast charging (takes around 3hrs for a full charge)
Cons
Inconvenient in case of a battery malfunction
5. Primevolve Rechargeable Portable Fan
Primevolve's Rechargeable Portable Fan is a battery-powered fan with remote control functionality. It features a rotatable pole with a click at the base – creating a fixed direction airflow for efficiency.
It also includes a USB(2A) compatible with most USB-enabled power sources for convenient charging. On a full charge, the battery runs for 6-24 hrs depending on the speed mode (features 4-speed modes). However, it takes around 5 hrs to fully charge, which is a long time compared to the Geek Aire rechargeable fan that also runs for 24 hrs.
The telescopic foldable design makes it ideal for indoor and outdoor use. It's portable and can be folded to a compact desk mode or adjusted to a floor fan. The fan collapses to a simple small design, especially during charging.
Unique features
A remote controller – provides convenient remote control functionality in addition to the control button.
It's fitted with a 180° upgraded rotating head with a removable hood.
Pros
Low noise (30-40dB)
Lightweight and portable
Adjustable height
Remote and button controls
Cons
Not efficient for a large room
It takes a long to charge fully
6. Smartele Rechargeable Floor Fan
The Smartele FF16 Rechargeable Floor Fan is a battery-operated cordless fan with a 15000mAh rechargeable battery. It features a brushless DC motor and 5 blades for high efficiency.
Keep the air cool anywhere, anytime, with this high-velocity rechargeable floor mount fan that lasts between 3-30hrs of use. It's ideal for bedroom, kitchen, home office, living room, and outdoors (e.g., camping).
This 16 inch fan is designed for extreme outdoor conditions. It even features a durable metal design with a large carrying handle and non-slip rubber feet.
Unique features
An IPX4 certification for water resistance and splashproof.
160° adjustable tilt for improved air circulation
5 LED power indicators – remind you to recharge on time
Pros
Fast charging module (2.5hrs to full charge)
Long-lasting battery runtime
Long motor life – up to 10yrs
Lightweight, portable and durable
Tech support in Los Angeles
Cons
Not ideal for large spaces
7. Xasla Desk Fan
Xasla's 5inch Desk Fan is an ultra-quiet AA battery-operated fan with a secondary power option. It features 7 blades with 3-fan speeds and 0-90 degree vertical rotation functionality for better air circulation.
The sleek mini design makes this fan ideal for personal indoor and outdoor air cooling.
Experience a lasting runtime of cool breeze with the Xasla battery-powered desk fan. When full, the battery can serve you for 5hrs on high speeds and up to 18hrs on low-speed mode.
Unique features
It is fitted with a 1, 2, and 4-hour auto-shut timer for energy efficiency.
Multiple power supply options – features a regular charging cable for power bank or car charging and a USB charger.
Pros
Affordable
Lightweight and portable
Impressive battery runtime
Super-quiet operation
User-friendly
Cons
Not suitable for cooling large rooms
8. Makita 18V LXT Fan
This 18V LXT Fan by Makita is a portable rechargeable battery-operated fan ideal for painters and contractors. It helps maintain fresh air circulation and provides a powerful breeze on the high speed.
This fan offers impressive runtime but it does depend on the speed.
Below is the average runtimes when using the 18V LXT 5.0Ah Battery:
Up to 17.5 hrs of continuous operation in low speed
Up to 9.5hrs of continuous operation in medium mode
Up to 8hrs of continuous running in high speed
However, the maximum runtime is 21hrs when using the 18V LXT 6.0Ah Battery at a low speed.
The fan offers high performance in a compact design. It can be mounted on an optional tripod stand to meet your needs. You can also tilt it 90º up and 45º down to adjust the airflow to your liking.
It features three blades and 3-speed settings (low, medium, and high) to give you optimal air circulation per your preferences.
Unique features
A 3-stage automatic timer – 1,2, and 4hr power automatic shut-off.
45º left and right automatic oscillation to provide optimal air velocity.
Pros
Lightweight and mobile
3X fast charger
Impressive runtime
High performance
Cons
Battery and charger not included – sold separately (additional cost)
Only uses Makita accessories
9. BLBS Clip-on Portable Fan with LED Light
The BLBS Clip-on Portable Fan with LED Light features a 12000mAh built-in rechargeable battery that offers an incredible 12-65 hrs of continuous runtime.
Stay cool in hot weather with the BLBS small but powerful portable air cooling device. It's an impressive ceiling clip-on fan with a 360° head rotation, ensuring a complete area coverage ideal for camping tents, RVs, beds, and strollers. It also features a hook and standing mount.
The fan has 3-wind speeds (low, middle, and high) with a 3000RPM turbo motor for an instant breeze.
Unique features
A high-capacity battery doubles as a portable charger for smartphones, tablets, and music players.
9 LED lights with 2 modes ideal for an outdoor night light.
Pros
Long-lasting battery runtime
Ultra-silent operation(<30dB)
2-year warranty and a 90-days refund
High portable and lightweight
Cons
USB charging cable not included
Only suitable for small space cooling
10. Amacool Portable Camping Fan
Amacool's Portable Camping Fan is a special battery-operated camping fan with a hanging hook. It features an in-built hook ideal for hanging inside camping tents, your car, or indoors. It can also be placed on a tabletop or mounted on walls per your preferences.
Its in-built rechargeable 5000mAh battery delivers an impressive 40hrs fan-only run time and 18 days of light-only operation.
It also features a powerful motor that effectively removes heat while maintaining a low noise level.
Unique features
An aroma diffuser offers a cool, refreshing breeze with an aromatherapy effect.
It includes 12 bright LED lights with 3 settings ideal for the darkest campsites.
360° horizontal and vertical rotation to guarantee complete air circulation
Pros
Powerful and portable
Best for dark spaces
Long-lasting battery runtime
USB charger included
Cons
Not suitable for large rooms
11. Gazeled Cordless Portable Fan
Gazeled's 5-inch Cordless Portable Fan is a mini portable AA battery-operated fan with a clip. This clip-on fan is ideal for cooling small spaces like the bedside, strollers, home office, or outdoor camping sites.
The Gazeled 5-inch battery-operated fan is specifically designed for baby strollers. Its clamp has been tested to ensure it's strong to clip and hold in place for safety.
It's powered by 4 alkaline AA batteries lasting 5-6 hours. You can also use a USB power source instead of batteries.
Key features
A 360° horizontal and vertical rotation for a wide air circulation range
Pros
Strong airflow and ultra-silent
Anti-skid and curved sleek design
Two power source options
Made of quality ABS plastic
4 AA batteries and a USB cable included
Cons
Only suitable for small spaces
Only one-speed mode
Related questions
What is the strongest battery-operated fan?
The Geek Aire Portable Fan is one of the strongest battery-operated fans you can consider purchasing. It features durable metal construction. The interior components have water resistance protection and ABS fire-proof material for the battery box.
How long do AA batteries last in a fan?
In most fan brands, AA batteries last between 5 to 18 hours of continuous runtime. However, it depends on the speed modes of each fan. Low speeds consume less energy; allowing the batteries to last longer.