Non-ultrasonic humidifiers are available as warm mist (vaporiser) or cool mist (evaporative) models. These humidifiers are generally less expensive than ultrasonic models, and are less prone to mold and mineral build-up problems.
Humidifiers are wonderful appliances that increase the moisture content of the air in your room and help you breathe better. If you have ever searched for humidifiers online, you may have noticed that a vast majority of the humidifiers available work using ultrasonic technology. However, there are plenty of other types of humidifiers that are not ultrasonic, which can offer their own unique benefits. 
In this post, we are going to explain how these different humidifiers work, and we'll go through all the important points you need to keep in mind when making a purchase. We also take a deep dive into 11 humidifiers that are not ultrasonic, focusing on their performance, design and overall value. Let's get started!
How many types of humidifiers are there?!
There is a lot of confusion on the internet over how humidifiers should be classified, but we can simply divide them into three categories for our purpose today:
Ultrasonic
Warm-mist (or Steam vaporisers)
Cool-mist (or Evaporative humidifiers)
Although they all have the same end result of increasing the humidity of your room, they differ widely in terms of how they work, as well as their cost, noise levels and effectiveness.
If you dive deeper into the internet, you will find that there are some other forms of humidifiers as well (like a centrally working device that connects to your HVAC, but even they are one of the three classifications listed above).
You would also find that ultrasonic humidifiers are sometimes listed as cool or warm mist. This is because ultrasonic humidifiers can use heat (warm-mist) or don't use heat (cool-mist), but these are very different from Vaporisers and Evaporative humidifiers.
1. Ultrasonic Humidifiers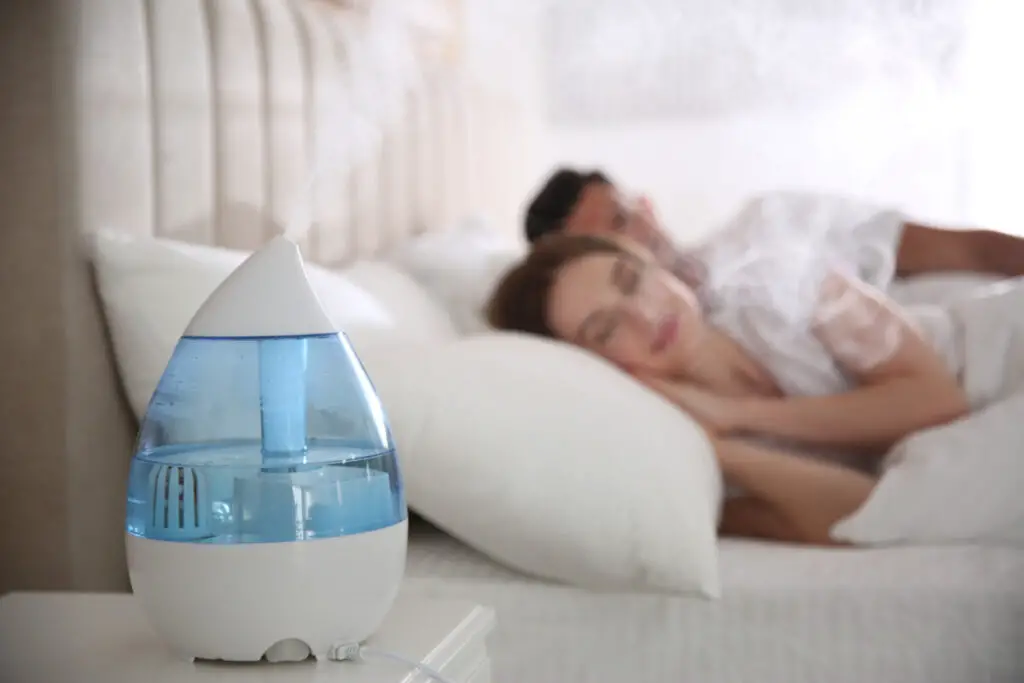 As the name implies, ultrasonic humidifiers use high frequency sounds to increase the moisture content in the air of your room.
These humidifiers contain small ceramic plates that vibrate and generate high frequency vibrations. The vibrations break the water down into incredibly tiny particles that enter the air as mist. This mist later evaporates to increase the overall humidity of your room.
These are the most popular humidifiers, mostly because of the following useful features:
Ultrasonic humidifiers are very quiet. The sounds these humidifiers use are of such a high frequency that your ears cannot hear them at all!
These are also very compact as the main humidifier component is fairly small, and additional components are usually not required.
There is no need for filters, and therefore there is little need for maintenance.
They are easily available, both physically and online. This also means that you have more choices in terms of design and aesthetics.
The mist emitted by ultrasonic humidifiers is cool, eliminating the risks of steam burns.
However, there are some major downsides to ultrasonic humidifiers as well.
These tend to be more expensive compared to evaporative humidifiers or vaporisers.
If the water used is not totally clean, ultrasonic humidifiers tend to dissipate minerals as fine white dust around the main device. This can be quite cumbersome to clean regularly.
There is no filter in ultrasonic humidifiers, so if pollutants, like germs are in your water, they will quickly enter your room via the mist produced by your humidifier. This is linked to a condition that causes inflammation in the lungs and can lead to serious health issues – the EPA has more information on how to avoid this problem available here.
Because of these reasons, the following two types of humidifiers make great alternatives.
2. Warm Mist Humidifiers/Vaporisers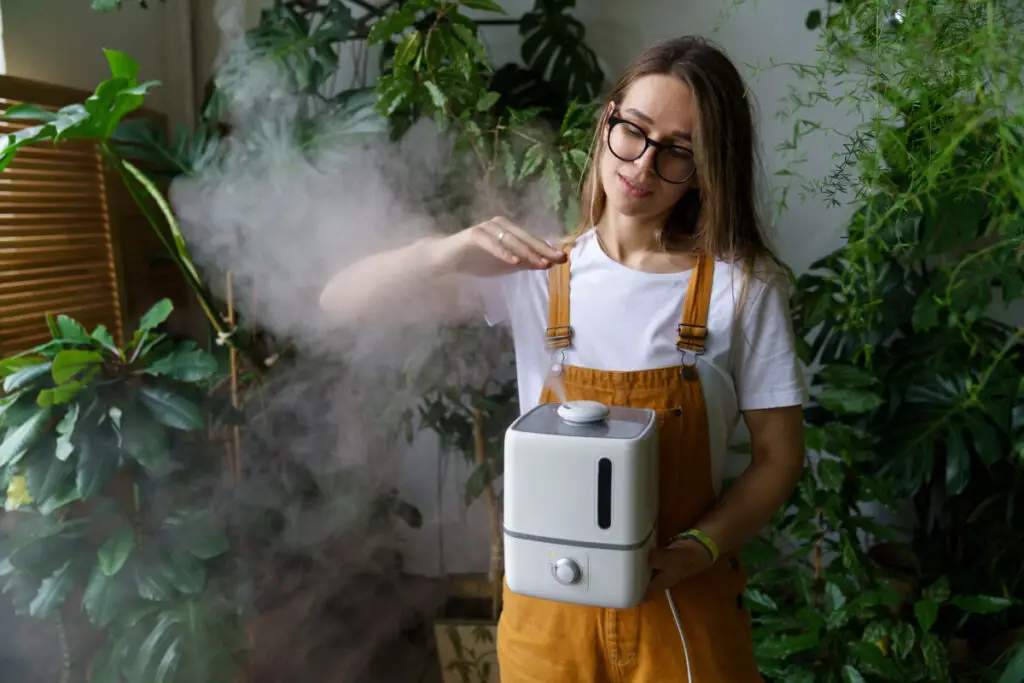 Unlike ultrasonic humidifiers, steam humidifiers use actual heat to boil the water and then send the steam into the air of your room, which increases the total humidity.
This type of humidifier offers certain advantages:
Since the water is boiled, it is usually cleaner and safer from a health perspective.
These are the most affordable type of humidifier.
They are all usually small and portable.
Like with anything, these humidifiers (vaporizers) have their downsides too:
There is a significant risk of steam burns with vaporizing humidifiers, even though many devices these days have mechanisms in place to cool the steam before releasing it. 
These are not child or pet friendly.
The power consumption is higher, because heating the water into steam is an energy intensive process.
3. Cool Mist/Evaporative Humidifiers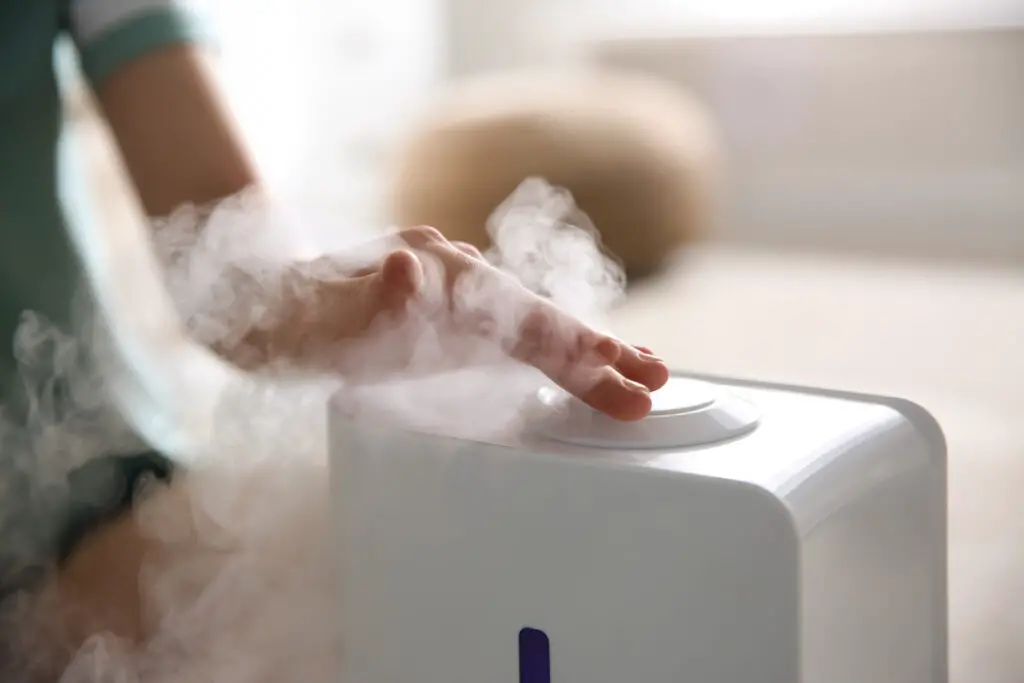 Evaporating humidifiers are very different from the previous two humidifiers we discussed in the sense that they don't use vibrations or heat. Instead, these devices use a fan that blows water to a wick filter, which then releases this water into the air in the form of a cool mist.
Cool Mist humidifiers offer the following unique benefits:
They have a filter, and therefore offer cleaner mist than that of ultrasonic humidifiers.
The mist is always cool, eliminating the possibility of steam burns.
These are generally child and pet friendly.
Evaporative humidifiers are also quite inexpensive.
They don't produce white powder around the device like ultrasonic humidifiers do.
However, some of the downsides are:
The fan makes these humidifiers louder than the other two types.
The filter needs regular maintenance and care.
Best Non-ultrasonic Humidifiers Available
With this background covered, let's look at the best non-ultrasonic humidifiers available today.
1. Pure Enrichment MistAire Eva-Mist-Free Evaporative Humidifier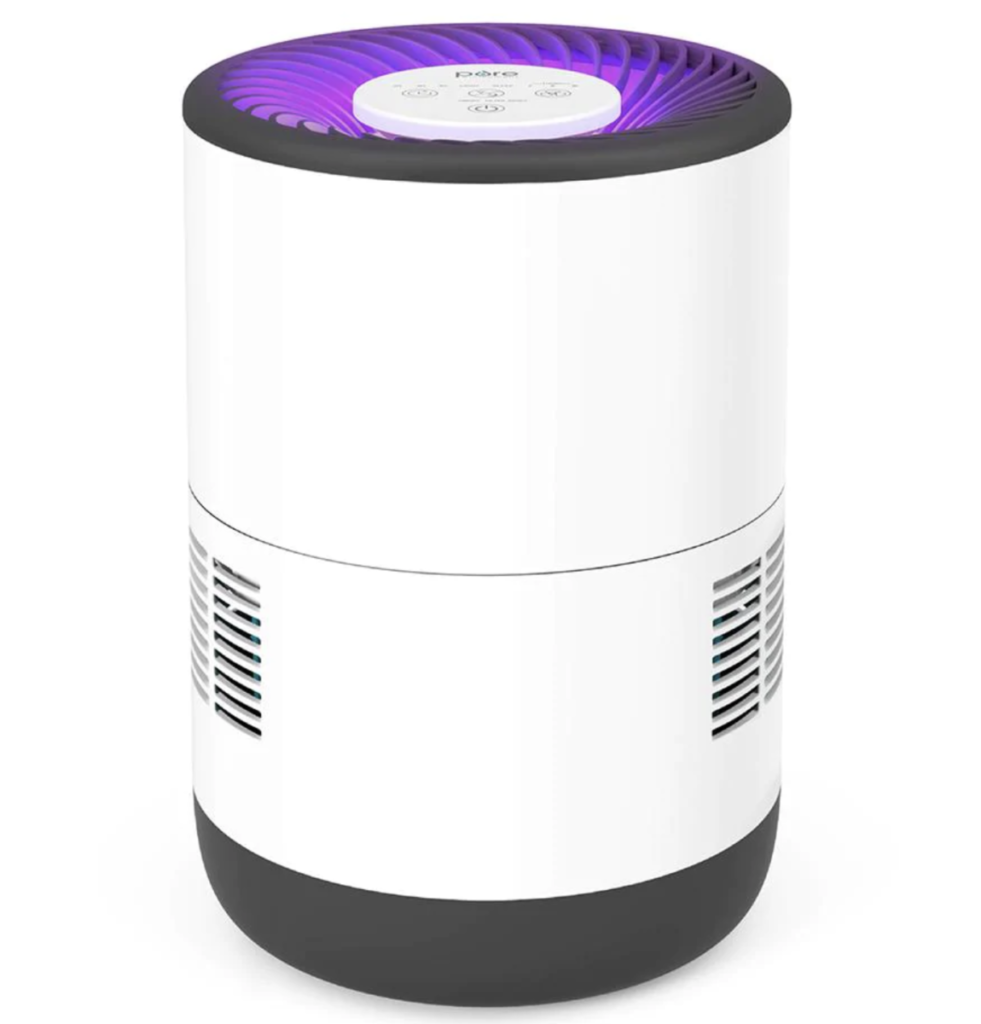 Pure Enrichment has established itself as the go-to brand for high quality and affordable home products. With great performance, design and cost, the MistAire Eva-Mist-Free Evaporative Humidifier represents just that.
This evaporative humidifier with a 2.8 liter tank capacity and a 9 hour maximum runtime can cover medium sized to large rooms up to 500 sq. ft in size at a mist output of 300 milliliters per hour. 
It uses a unique 'whirlwind fan' technology to send moisture out equally through your room, and also offers four different fan speeds so you can adjust the humidity level on your own.
It also has an anti-bacterial filter that cleans off some major allergens and prevents contaminants from spreading in your room.
This is a high-performance humidifier that is only matched by its sleek, modern design featuring a white cylindrical body and controls on top along with the whirlpool fan, making the device attractive and ergonomic to use at the same time.
All features considered, this is one of the best non-ultrasonic humidifiers that you can get for its price.
Pros:
Easy assembly and usage
Anti-bacterial filter
Four fan speeds and an auto-off function
Night light with 7 colors and a sleep mode
5 year warranty
Highly reviewed customer support
Cons:
Not suited for very large living spaces
Poor packaging and shipping has been a frequent complaint among users (although, this is from Amazon and not from direct purchases via pureenrichment.com)
2. Vornado EVDC300 Energy Smart Evaporative Humidifier 
At first glance, the Vornado EVDC300 Energy Smart Evaporative Humidifier does not quite look attractive. With a rectangular white body and a transparent cylindrical tank at the side, the device looks rather clinical, hardly ideal for living spaces or bedrooms.
What it lacks in design, however, it more than makes up for in performance. The 1 gallon tank can provide coverage for large rooms up to 750 sq. ft. for up to 8 hours a day. The vortex airflow system it uses also ensures that every corner of the room received this moisture equally.
The most attractive selling-point is the remarkable energy efficiency. This humidifier uses up to 90% less energy than its counterparts through its smart DC Motor. This makes it an ideal choice for anyone conscious of the environment and their carbon footprint.
Another impressive feature is the single button control, paired with an automatic humidity controller. This makes it ideal for the elderly or those who simply do not want to be confused with an array of buttons and controls whenever they want their humidifier to work. 
Pros:
Highly energy efficient
Customisable fan speeds
Easy cleaning
5 year product warranty and a 10 year motor warranty
Large Area coverage
Cons:
Clinical, dull design
The fan tends to be loud, specially at higher speeds
3. Steamfast Steam Humidifier
Although Steamfast is not the most popular brand in the home and air care arena, its product Steamfast SF920 Steam Humidifier has consistently remained one of the highest rated steam humidifiers on the market. 
The design and overall aesthetics of the product are quite pleasant. It features a white semi-cylindrical body that tapers towards the top, with a simple sliding control running across the front of the device. The compact body, clean colors and minimalistic design make it fit into any office or home space with ease.
The tank is on the smaller side at 0.8 gallons, but it can be sufficient to humidify rooms of up to 500 sq. ft, meaning the device can comfortably function in medium to large bedrooms and living rooms.
Some other handy features include 2 different steam settings, only 3 minutes of heat up time, and filter free usage.
Additionally, it offers the unique benefit of also functioning as an essential oil dissipator.
Pros:
Clean, compact design
Simple, easy-to-understand controls
Auto shut off feature
Option of adding essential oils
2 year warranty
No need for frequent maintenance
Cons:
4. AIRCARE Digital Whole House Evaporative Humidifier
When it comes to making a statement with the design, few humidifiers come close to the Digital Whole House Evaporative Pedestal Humidifier by Aircare. 
Marketed aptly as 'The Pedestal', this device stands at a massive 27.3*18*18 inches, and comes in two dark colors: 'espresso' and 'nutmeg'. The device does not hide within the details of your room; it is instead designed to make a statement.
Speaking of statements, the 3.5 gallon tank capacity offers one of the largest coverage of any device in our list today at 2400 sq. ft, suitable to humidify very large spaces like offices or open-concept houses. 
With these specs, it can run up to 60 hours and has 9 fan speeds, making it truly stand out from most other evaporative devices.
Additionally, for those who are conscious of where their product comes from, The Pedestal is made in the USA.
Pros:
Bold design
Very large capacity
Auto off function
Large runtime
US Made
Cons:
Bulky
Some users have complained of durability issues
5. AIRCARE Digital Whole House Oak-Burl Evaporative Humidifier 
Standing right beside 'The Pedestal' is Aircare's another strong large-space contender: the Digital Whole House Oak-Burl Evaporative Humidifier (model H12400B). 
Continuing Aircare's focus on design, this is possibly one of the best looking humidifiers you could possibly buy today. Shaped like a large rectangle of 13.7 *23.5* 21.75 inches, the device has a wooden-finish plate at the sides and a clean, fenestrated top for releasing steam. While the general focus in our list so far has been on finding devices that aren't obvious to look at, this one goes one step further and instead adds a unique element of old-world charm and sophistication to your room. 
There is plenty to praise about the performance, too. The massive 5.4 gallons tank allows for humidification of very large spaces up to 3700 sq. ft. big, which is essentially sufficient for an entire house. 
Other noteworthy features include a 4 speed fan and a digital readout of its analog controls.
Pros:
Outstanding design 
Very large capacity
2 year warranty
4 fan speeds
US Made
Cons:
Bulky
Not suitable for small spaces
Some users have complained of manufacturing issues with certain parts of the device
6. Smartmi Evaporative Humidifier 
The Smartmi evaporative humidifier really embraces the minimalistic white aesthetic that most home appliances are inclining towards in recent years. Featuring a square base and a plain white body, this small, compact device is good at fitting into almost any type of space without appearing too out of place.
The tank capacity of this humidifier is 4 liters, evaporating up to 240ml water each hour and can run up to 24 hours at low speeds. This makes is suitable for most bedrooms, living spaces or offices.
The 'Smart' element of this humidifier can be accessed through the Xiaomi/MI Home app, which allows you to toggle between three different humidifier modes and fan speeds. 
Another interesting feature this device offers is its unique top-filling property that allows you to refill the tank from the top, even when the humidifier is already running.
The usual auto-off and self-timer features are also available.
Pro:
Small, compact device
Smart controls
Baby friendly
Top-fill possible even when the device is running
Easy cleaning
Cons:
7. Honeywell Cool Mist Humidifier 
The HEV320WV1 is a small but very efficient humidifier from Honeywell that offers reliable performance at a very affordable price.
Designed for medium to small sized rooms, this humidifier has a tank capacity of 0.8 gallons and can run continuously for up to 18 hours in its low fan setting.
The device is also considerably quiet compared to other popular brands in this category, based on both the device specifications and multiple user reviews.
The main device housing itself features a simple, white structure with an easy-to-use dial for controls. Although not the best in terms of aesthetics, the device housing is break-free and includes a large opening, which makes it easy to fill and clean the tank.
Considering the small size and capacity, the efficiency and reliability, the ease of use and the cost, this is one of the best humidifiers to purchase for those who are still new to the world of humidifiers and would like to try one for their room.
Pros:
Small size
Great value for money
Easy to fill and clean
Cons:
Not suited for larger rooms
Wicking filter needs maintenance 
8. Vicks Warm Mist Humidifier
Vicks's reputation is associated with relief of cold symptoms, which can be seen perfectly with its lesser known but very effective V745 Warm Mist Humidifier. 
The device features a 1 gallon tank housed in a transparent blue case, giving it a clean, sophisticated feel. There is a single knob located at the side of the device which allows very easy control. The tank opening, too, is quite large, making it easy to fill in and clean.
The humidifier can last for up to 12 hours producing a comfortable, warm steam that is excellent for reducing your cough and cold related symptoms. There is no filter involved in the entire process, meaning you won't have to worry about filter maintenance and replacement.
The device is also ultra quiet, making it particularly suitable for use in baby rooms or bedrooms.
Pros:
Specifically designed with relief of cold symptoms in mind
Clean, modern design
Compact and portable
Usable with Vicks VapoSteam (for medicated vapors)
Filter free
Cons:
Not suitable for large rooms
Regular cleaning needed
9. Vornado Energy Smart Evaporative Humidifier 
The EVDC500 is another great humidifier from Vornado in our list today that stands out because of its energy efficiency and large area coverage.
The device features two tanks of 1 gallon capacity each, which combined can work for up to 12 hours in large spaces of up to 1000 sq. ft. in size. This makes it excellent for office use, although the product is great for living rooms as well.
It works using a smart DC motor that the company claims consumes up to 90% less energy than its AC counterpart, saving up on your electricity bills.
The device is also worth purchasing because of its multiple customisable fan speeds, an auto-shut off function and a reliable customer service experience.
Like the EVDC300, however, this humidifier also suffers in the aesthetics department. With two large cylindrical tanks at either side of a rectangular facade, the EVDC500 looks almost like some industrial machine more than a home appliance. 
Pros:
Energy efficient
Large area coverage
Tanks are easy to fill and clean
5 year warranty
Cons:
10. Venta Original Humidifier
If you just want a simple humidifier that gets the job done without a thousand features for you to understand, then the Venta LW45 original humidifier might be for you. 
The working process this humidifier uses is fairly simple: there is a fan that speeds-up natural evaporation of water, without the use of any filter. While this relieves you of the burden of constantly checking, cleaning and replacing your filters, this does add the need for only using clean water in the device tank to avoid any contaminants being dissipated via your humidifier. Any tap water should be fine, however, and you are even allowed to add fragrances if you want to.
As far as the controls are concerned, there is just one on/off button and three intensity levels that you can choose from- and that is it! 
Even the design is fairly simple, although not particularly attractive to look at. There is a plain black cuboidal structure with black lines running down the front. 
With a 3 gallon capacity, this device is suitable for medium to large spaces up to 600 sq. ft. in area.
Pros:
Very simple to use
Easy cleaning
No need of filter care or replacements
Aromatherapy possible
Cons:
Unattractive design
Durability issues
11. Crane Warm Mist Humidifier with Inhaler
If you are looking to purchase a humidifier for cold or allergy related symptoms, then this 2 in 1 combo of Warm Mist Humidifier with an Inhaler by Crane might be perfect for you.
The humidifier component includes a 0.5 gallon tank, which can run up to 8 hours with whisper-quiet functioning and is suitable for smaller rooms up to 250 sq. ft. in size.
There is also an auto-off function that won't let your humidifier run once the water runs out, meaning you can sleep in peace.
Although it is designed to run without any filter, Crane gives you the option of using a mineral filter if you are concerned about excessive minerals in your water. 
The inhaler component consists of a small attachment that you put on top of your device, which instantly turns it into an effective inhaler. You may even use menthol vapopads with the inhaler, which helps improve the therapeutic action of the device. 
It is also worth noting that the vaporiser heats water up to 131F, which provides safety from most germs.
Overall, this is a great product for anyone considering a humidifier for health related reasons.
Pros:
Designed specifically for small rooms and personal use
Whisper quiet
Auto-off feature
Added inhaler with vapor pads
Option of a mineral filter available
Cons:
Not suited for family use
Risk of steam burns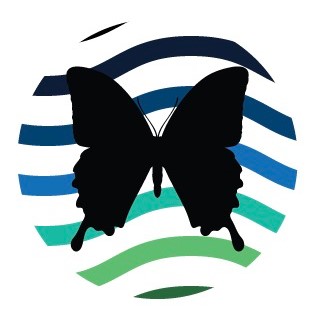 Looking for a quiet humidifier that you can run while you sleep? Plentiful Air has a detailed guide to the quietest humidifiers available here.