A waterless diffuser is designed to disperse essential oils without using water or heat. These diffusers work by using evaporative pads or an atomizer to create fine particles of essential oil that are then diffused into the air. Two types of waterless diffuser exist, nebulizing and fan-propelled.
If you want to fill your home or workspace with an aroma of natural fragrances try a waterless diffuser. It will fill your living space with uplifting scents, without the complicated setup or maintenance of a water-using diffuser.
This article provides a comprehensive list of the best 30 Waterless diffusers available (+ 4 bonus diffusers), making your choice easier. This article also briefly explains the different types of waterless diffusers.
Waterless Diffuser Types
There are two types of waterless diffusers:
Nebulizing waterless diffusers, and
Motor-powered or fan propelled evaporative waterless diffusers.
Nebulizing waterless diffusers use an air pump to split up fine particles and project them into the air, while motor-powered / fan propelled waterless diffusers propel the fragrance through the air as it evaporates from a pad.
It's important to note that most waterless diffusers are smaller than their water-using counterparts. If you are trying to diffuse a fragrance over a large area then you may need to invest in 2 diffusers and place them at opposite ends of the room.
Having said that, nebulizing diffusers are usually more powerful than evaporative waterless diffusers (and often more expensive too)
Either way, the benefit of never having to refill the water tank for your diffuser to work – or ever having to clean the tank, far outweighs the fact they tend to be slightly smaller units. Plus, they are far more portable.
Either way, a waterless diffuser can definitely disperse your favorite fragrance and improve the ambience of your space. In fact, a study on aroma inhalation and its effects on human brain function demonstrated that scents not only affect your mood and behaviors, but also work performance.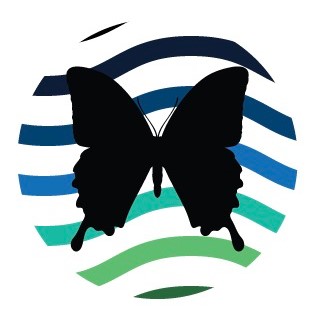 If want to know more about how much diffusers cost to buy and run in general, Plentiful Air has more information available here.
30 Best Waterless Diffusers For Essential Oils
Using a waterless diffuser fills your air with nothing but the fresh aroma of essential oils. Go through this list of waterless diffusers and simply click on your favorite one and it will take you to Amazon.com or the brands website where you check their latest price.
We have tried to make this list as comprehensive as possible, so there are some for the home or office, a few portable types and even a couple specifically designed for your car – and they are all waterless.
1. PureSpa Breeze USB Essential Oil Diffuser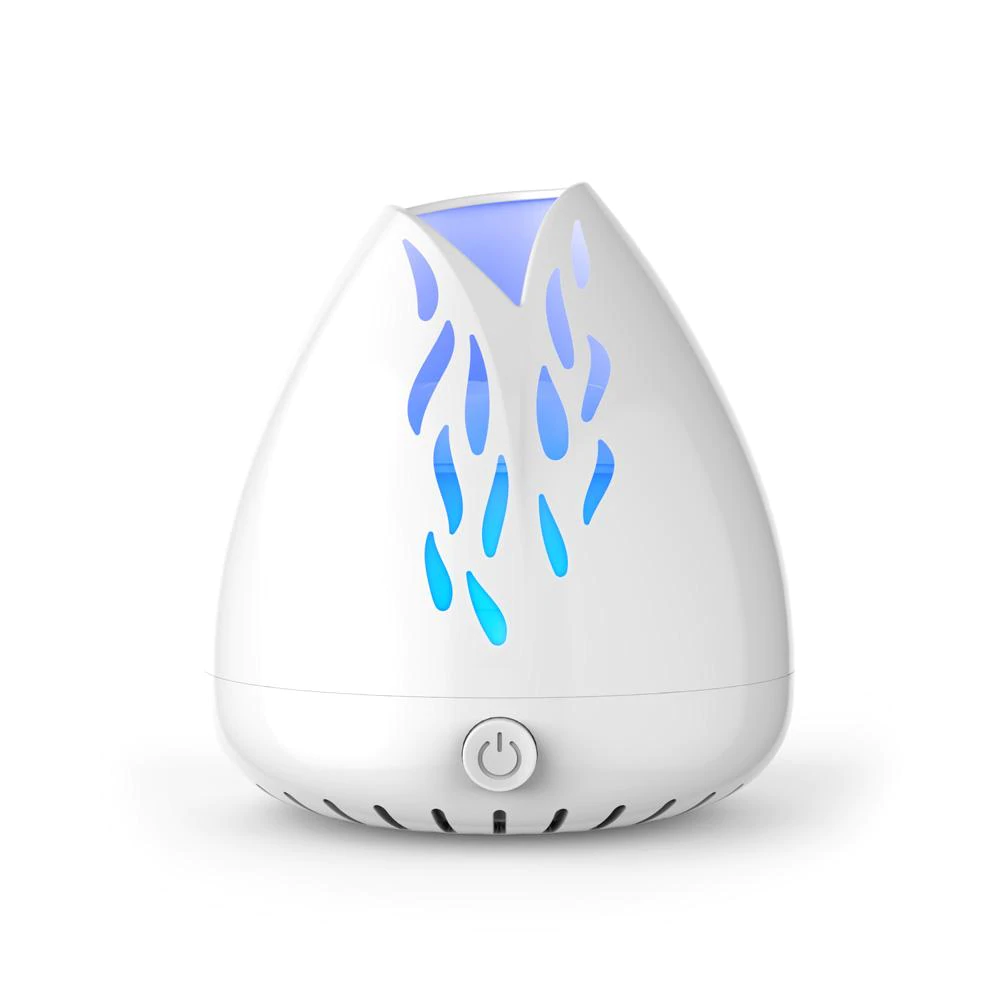 Pure Enrichment have created the waterless PureSpa Breeze USB Essential Oil Diffuser that can be powered from any USB outlet or 3 x AA batteries.
This diffuser makes the top of the list because despite its small size, it produces a surprisingly powerful aroma. It also comes with an exceptional 5-year warranty – an indication that Pure Enrichment backs this product and its waterless diffusing capabilities.
To use this diffuser, simply plug the cord in (or use batteries) and add 15-20 drops of essential oil onto the reusable deluxe woven scent pads provided and enjoy the changing soft colored lights and fragrant and relaxing environment.
Don't miss out on transforming your room with this unique waterless essential oil diffuser.
Pros
5-year warranty
Powered via USB or 3 x AA batteries (not included)
You can add 15-20 drops of essential oils at one time
Quiet and energy-efficient fan
Soft color-changing LED light
Covers up to 215 square feet
Comes with 3 reusable scent pads
Cons
Have to replace scent pads over time
2. Homedics Personal Portable Aroma Pad Diffuser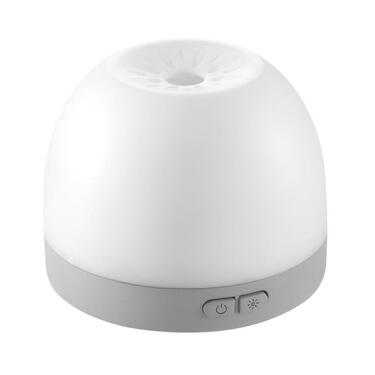 The Homedics Aroma Pad Diffuser uses essential oil pads to release your chosen aroma rather than water. It can be powered by battery or a micro-USB and is practically silent!
The key feature of this diffuser is that it comes with two fan speeds – continuous and intermittent. This allows you to personalize how it disperses your favorite fragrance, something no other waterless diffuser seems to do.
As a bonus, it even comes with 2 oil samples so you can use it straight out of the box. It has a gentle color changing light that adds a beautiful feel to any room.
Pros
Powered by micro-USB (included) or 2 x Alkaline batteries (not included)
Includes 2-pack oil sampler
Includes 3 oil pads
Quiet and energy-efficient fan
Gentle color-changing LED light
3. PureSpa Drop USB Aroma Diffuser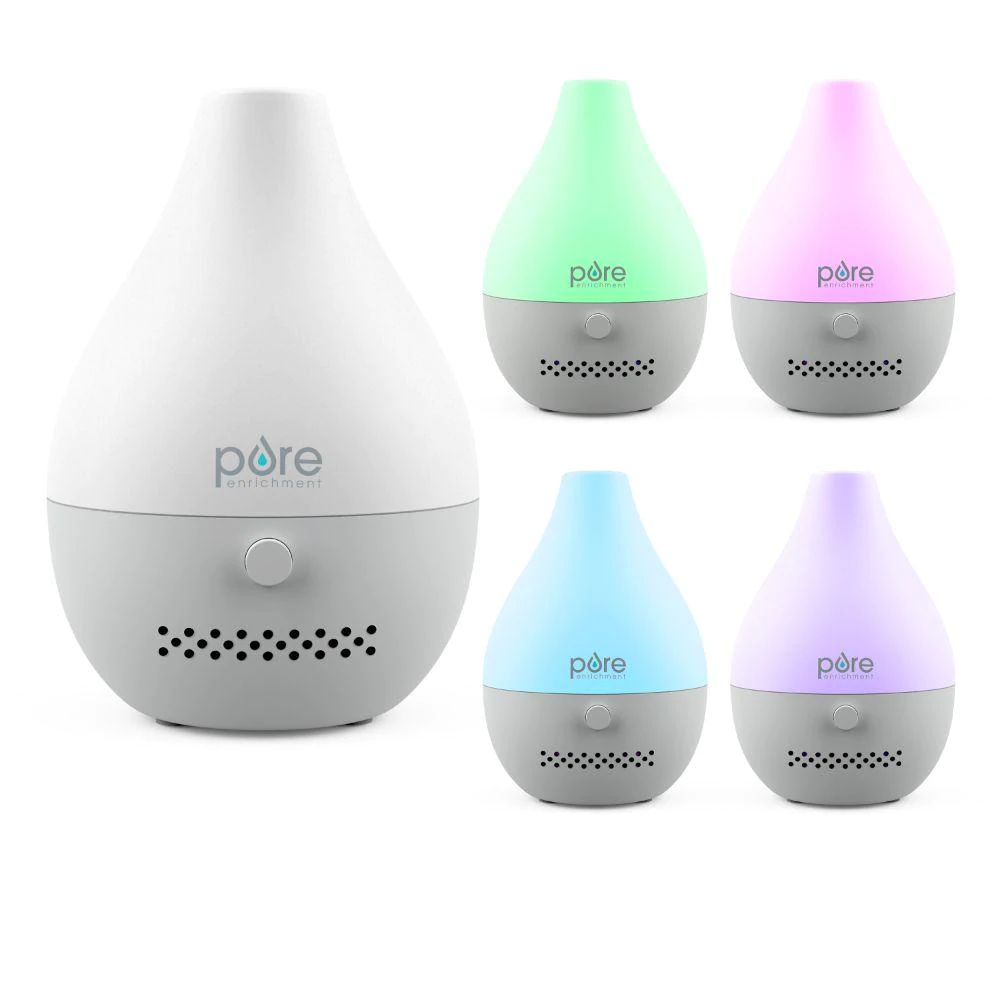 The PureSpa Drop USB Aroma Diffuser is a beautiful and compact essential oil or fragrance dispenser. It requires no water or heating and uses a quiet fan to gently disperse fragrances into the air.
Covering an area up to 269 square feet, it will deodorize and freshen your space after just 3-5 drops of your favorite oil or fragrance is added to the reusable scent pads held within the unit. It also slowly changes color to enhance the ambiance in the room.
Pros
5-year warranty
You only need 3-5 drops of essential oil
USB powered
Quiet and energy-efficient fan
Soft color-changing LED light
Covers up to 269 square feet
Comes with 3 reusable scent pads
Cons
Have to replace scent pads over time
For the full range of diffusers from Pure Enrichment, visit pureenrichment.com or check out their Amazon store.
4. Scentcares Portable Waterless Diffusers
Scentcares Waterless Diffuser is battery operated nebulizing aromatherapy diffuser. With its intelligent and cordless design, it can be conveniently used for traveling, driving, meditating, or working.
Ultrasonic technology converts essential oil into aromatic mist, providing extremely fragrant mist. It is available in black and white color.
Pros
Covers about 215 square feet
Rechargeable battery
Three levels of mist intensity
2-hours auto power-off function
Noiseless
Long-lasting
Three-year warranty
Cons
Some users complained that it stopped working after a few months of usage.
5. Weftnom Portable Waterless Essential Oil Diffuser
Weftnom waterless essential oil diffuser uses Nano vibration technology to emit the odor, effectively creating a comfortable aromatic environment for living. It is suitable for your home, car, yoga studio, and offices.

Fill your space with a sense of serenity using stress-relieving essential oil scents such as eucalyptus, tea tree, lavender, and peppermint.
Pros
Elegant home decor
No heat required
Rechargeable
Very quiet and super easy to use
Cons
Not great for larger areas
No timer
6. PureSpa USB Travel Aroma Diffuser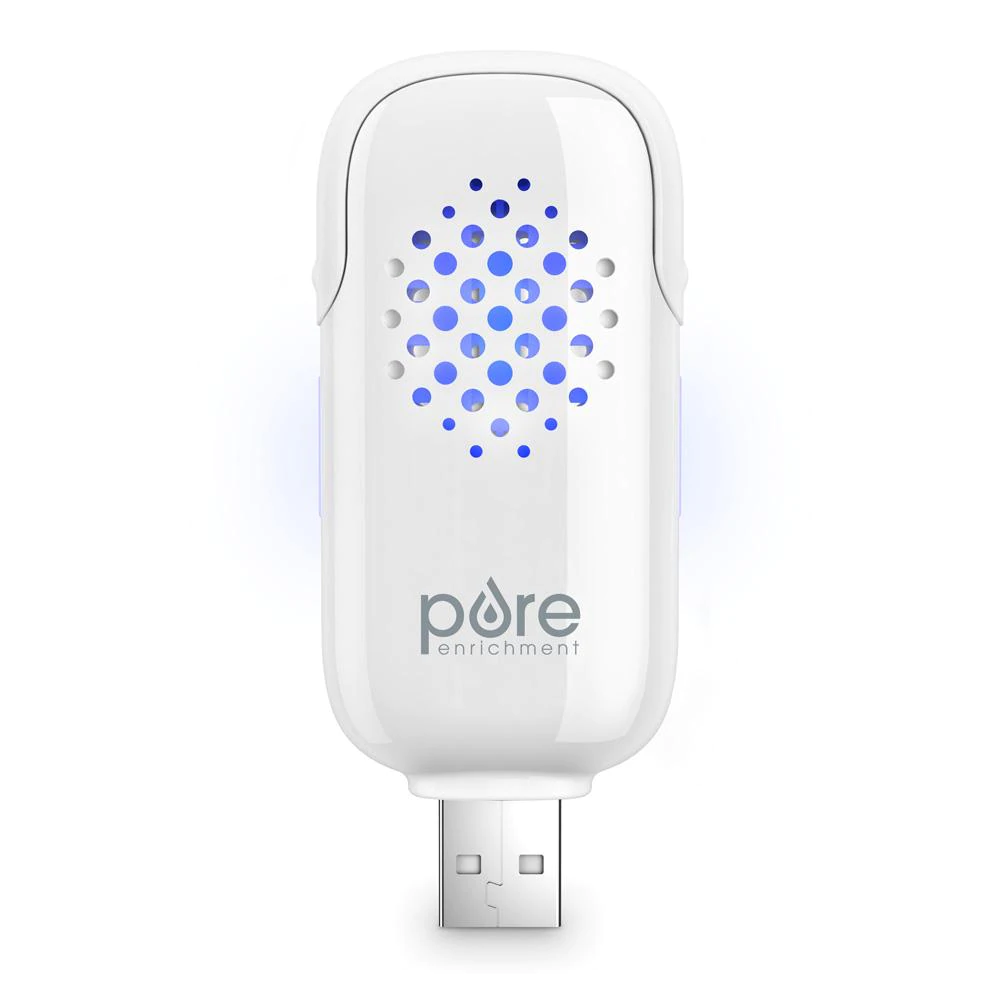 You can take this waterless USB Travel Aroma Diffuser anywhere! You simply add 5-10 drops of your favorite essential oil, and plug it in to any USB port to create a fresh and soothing environment.
It uses a whisper quiet mini fan and emits a soft ambient blue light when plugged in. Perfect to plug in to your computer, in your car, or at home – without anyone even knowing it's there! A great gift idea that doesn't cost the earth.
Pros
2-year warranty
Fits any USB port
Inexpensive
Uses 5-8 drops of essential oil
Whisper quiet fan
Covers 86 square feet
Comes with 3 reusable scent pads
Cons
Have to replace scent pads over time
Visit pureenrichment.com to see their full range of diffusers, or you can check them out on Amazon.
7. Lychee Essential Oil Aromatherapy Diffuser
This Lychee waterless aromatherapy diffuser uses an ultra-durable air pump to atomize essential oil droplets into millions of fine microparticles. This device is completely safe and FC, CE, and RoHS certified.
With an attractive design and seven soothing colored LED lights, this waterless diffuser can be anyone's go-to choice. It is best for premium home and professional use.
Pros
It covers over 800 square feet
Controllable usage cycle
LED can be turned on/off
Adjustable mist settings
Whisper quiet
Cons
It may clog, if not cleaned properly.
Fragile, so it's not best to be used around pets or children
8. PureSpa Auto Oil Diffuser & Car Charger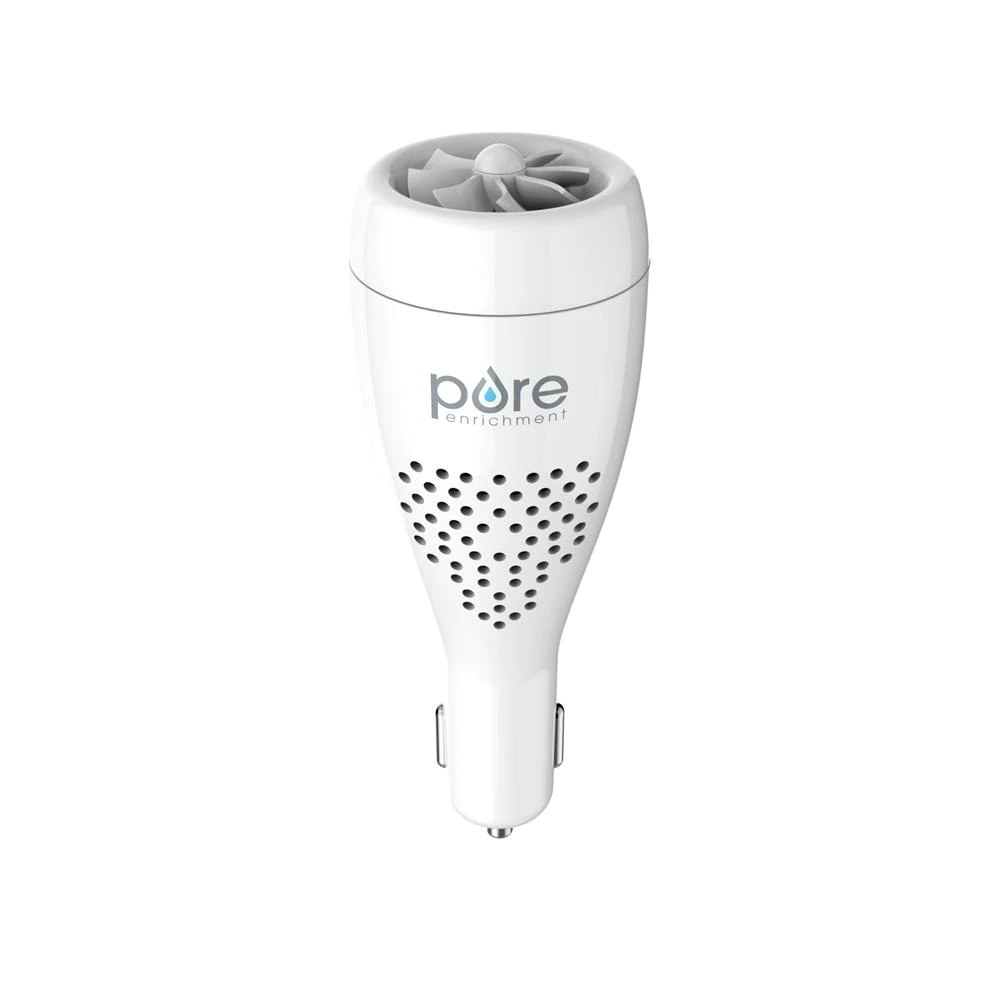 This neat little Auto Essential Oil Diffuser from Pure Enrichment is waterless and fits in your car charger for a relaxing commute.
Transform any drive into an on-the-go aromatherapy session. Relax as gentle bursts of fragrance emit from the central whisper quiet fan that also holds a soft ambient blue light.
Pros
5-year warranty
Fits your car charger to power the fan and built-in USB port
Has a 2.1 Amp USB port built in
Uses 5-8 drops of essential oil
Whisper quiet fan
Covers 86 square feet
Comes with 3 reusable scent pads
Cons
Have to replace scent pads over time
Visit pureenrichment.com to see their full range of diffusers, or you can check them out on Amazon.
9. Greenair Portable Aromasphere Diffuser
Greenair's waterless diffuser is a palm-sized portable device used for aromatherapy on the go. It includes three micro-absorbing fragrance pads that are replaceable.
This aromatherapy diffuser meets the highest standards in the natural products industry.
Pros
It can cover 100 square feet in any space
Made from PP that is BPA BPS and BPF free
It is USB or battery powered
No leaching of harmful chemicals
Affordable pricing
Runs silently
Cons
Some users complained about malfunctioning parts.
10. Weljoy Wood Grain Diffuser for Essential Oils
This small rechargeable Weljoy Wood Grain diffuser is a nifty little device for cars or small spaces that requires no water. Just remove the cover, add a few drops of essential oil to the fragrance pad and enjoy the natural aroma. This little personal device can be used anywhere, however, it is perfect to be used at work.
Some of its prominent features include a sleek look, compact size, cordless design, and lightweight. It is available in dark brown and wood grain color.
Pros
Adjustable settings to control longevity and intensity
Runs quietly
Rechargeable battery
Requires only a few drops of essential oil
Made of high-quality medical-grade BPA free materials
Cons
It requires pads to diffuse essential oils, and if you're a person much concerned about waste, this may not be the best choice as pads need replacement after regular intervals.
Fan's highest speed is a little loud if you're using it at a silent place.
11. The Magic Scent Atomizing Essential Oil Diffuser
The Magic Scent essential oil diffusers use a powerful cold air diffusion system to break the essential oils into a dry mist that disperse in the air creating a constant healthy natural aroma.
It keeps the therapeutic benefits of essential oils intact. You can use it in large rooms, offices, bathrooms, and yachts, etc.
Pros
Aromatherapy power of 1000 square feet
Made from a hypoallergenic and BPA free fragrance delivery system
Programmable cycles with controllable scent intensity levels
Runs quietly
Cons
This product is expensive.
12. ArOmis Aromatherapy Diffuser
ArOmis Aromatherapy Diffusers are premium waterless nebulizing essential oil diffusers having emotional and physical healing effects.
This auto-shut-off nebulizing device can be a perfect accent piece in your home or workplace.
Pros
It covers up to 900 square feet
Stunningly beautiful
No heating required
Adjustable aroma intensity makes it equally functional for a small or up to 30 x 30′ area
Built-in timer function that runs on and off after every ten minutes and shuts down after 4 hours
Cons
You might find it noisy in calm living spaces.
No remote or fun LED lights
Can clog if used with highly viscous oils
It is delicate and can easily break.
13. Kevinleo Waterless Essential Oil Diffuser
Kevinleo Waterless Essential Oil Diffuser is HVAC good diffuser that can work equally well with a solid and slight smell. Patented Microdroplet Technology allows it to diffuse your favorite pure essential oils, releasing nanoparticles and purifying the air.
It can work well for hotel lobby, home, casino, Spa, Office, retail store, etc.
Pros
Covers 3,500-7,500 square feet
Intelligent control via an app with Bluetooth control option
Built-in Timer
Ultra-quiet operation
Online Tech Support
High powered Scent Outlet
2-years warranty
Cons
Little information on using the equipment is available.
This waterless diffuser is expensive.
14. Zinyeme Smart Waterless Aromatherapy Essential Oil Diffuser
This Zinyeme Smart aromatherapy essential oil diffuser is a professional nebulizing scent air machine based on cold air diffusion technology that requires no heat or water. It releases a pure dry aroma mist that is safe for your family and pets.
You can add any best quality essential oils to this device, including lemon, lavender, rosemary, peppermint, white tree, eucalyptus, jasmine, and santal 33. Use this waterless diffuser and boost your mood whether you're at home, office, or spa.
Pros
It covers up to 2000 square feet
Smartphone app to control the device
Default settings are available if you don't prefer using the app
30-day moneyback guarantee
No cleaning required
Super quiet
No mold
Pure and strong scent
Extensive room coverage up to 2000 square feet
One year warranty
Cons
This diffuser is a little expensive.
15. SCENT DÉCOR Aroma Oil Diffuser
SCENT DÉCOR's aroma oil diffusers are based on the second-generation patented atomization technology and they can outperform three times that of similar-sized diffusers from competitors. Just fill your essential oil bottle with your favorite oil and enjoy refreshing fragrances.
This diffuser can be used in casinos, resorts, hotels, health care facilities and residential buildings, etc. It is available in white and black color.
Pros
Up to 2500 square feet coverage
No dilution, heat, water, or residues
Adjustable fragrance intensity
Noise level(less than 30dB)
Smart timer
Cons
This device is quite expensive.
16. GuruNanda's First Waterless Essential Oil Diffuser
GuruNanda's waterless essential diffuser is the ultimate convenient aromatherapy device. This mini air freshener offers auto shut-off and some intermittent options.
Being ultra quiet, it is ideal for formal settings such as office, classroom, and spa room.
Pros
Provides 100 square feet coverage
BPA free electric diffuser
Silent ultrasonic technology
Wireless
Can fit into any electric outlet in your home
Blue and green mist modes
Cons
It is intended to be used only with Guru Nanda essential oils.
It can clog easily.
Some users claimed that it leaves oil residues on the countertop.
17. Ominihome Waterless Portable Essential Oil Diffuser
This Ominihome waterless essential oil diffuser employs cold diffuson technology for converting essential oil droplets into very fine (1-3micron sized) vapors. It is portable and can be used for home, hotel, office, studio, yoga, and traveling.
Pros
Can cover up to 107-645 Square feet in a few minutes
No heat or water is required.
built-in Rechargeable battery
Three working modes to choose for different space
Auto shut off every 2 hours
Ultra-quiet (lower than 35dB)
Wireless
Cons
Some users reported about the low quality, leakages, and other manufacturing faults.
18. Peony Non-Electric Cordless Waterless Ceramic Essential Oils Diffuser
This Peony majestic waterless diffuser is the best decorative essential oil diffuser to transform your living space into heaven, dispersing a high-quality stress-relieving aroma.
The high-tech ceramic body contains 600,000 small holes that allow the fragrance to diffuse evenly into the air. You can use a combination of carrier oil and preferred essential oil to keep illness at bay with purified air.

Pros
It covers more than 100 square feet
Its elegant design makes it a perfect present for your loved ones
Easy to operate
Non-electric and cordless
Cons
Fragrance disperses slowly
19. PtahTex Waterless Portable Essential Oil Diffuser
Ptahtex waterless essential oil diffuser compresses the air to atomize essential oils, adding no extra moisture to your room or car. It can be used with different essential oils for a refreshing atmosphere to breathe in.
Pros
It covers up to 300 square feet
Rechargeable battery that can work for up to 50 hours once charged fully
Built-in soundproof device and unique shock-absorbing cushion
Cons
With viscosity being a huge factor, this waterless diffuser might not play well with all of your essential oils. It needs regular cleaning as it clogs easily.
20. MiniDiva Aromatherapy Portable Waterless Diffuser
MiniDiva's Aromatherapy diffusers employ high-frequency vibration atomization technology that can atomize almost all types of essential oils, including the ones that are not atomized by traditional diffusers (such as coconut oil and vetiver).
It can be sued for aromatherapy, yoga, SPA, travel, camping, and business accommodation. There is no need to add water; just screw the oil bottle, turn it on, and enjoy soothing scents. It is available in black and white color.
Pros
It covers 700 square feet
BPA free
Super quite technology(<38dB)
Uses ultrasonic nebulizing without heating maintaining essential oil's integrity
Timing setting allows you to control its running time
Cons
Some users complained about leakages and devices malfunctioning after a few days of use (that might be due to some manufacturing fault).
21. AromaPro Waterless Portable Essential Oil Diffuser
The AromaPro essential oil nebulizing diffuser uses patented nebulizing technology giving a powerful fragrance. It can be mounted on a wall and can even stand freely.
You can easily set your whole home by connecting it to the HVAC system of your home. Acrylic front color is available in white and sleek black colors.
Pros
It can cover an area of 500-4000 square feet
Adjustable fragrance intensity
Whisper quiet
Waterless and heat-free
Leaves no residue
Cons
This product Is quite expensive.
22. XEPTLE Portable Waterless Diffusers
XEPTLE Waterless Diffuser perfectly combines state-of-the-art waterless technology with a modern, sleek and efficient portable design that allows it to be carried wherever you go.
This aromatherapy diffuser is suitable for your home, car, or office.
Pros
It Covers 700 square feet incredibly well
Revolutionary quiet technology(less than 38db)
One-hour auto shut timer mitigates the worry of turning it off
Rechargeable with a leak-proof design
Easy to operate
It can be used in a sunny room without worrying about the degradation of essential oils
Cons
The price is a little higher compared to competitors.
23. ANSIBLE Essential Oil Diffuser
This premium Ansible essence diffuser uses state-of-the-art waterless atomization technology for dispersing essential oils providing a soothing ambiance to any space.
It is available in three elegant colors viz red, white and black.
Pros
Provides 150 square feet coverage
Super quiet
Three built-in working modes
2000ml Polymer battery enables it to be carried to any place
Saves essential oils
One-touch control with four light colors
Cons
Lights don't turn off and flash when active, and you might find it annoying while sleeping.
24. Three Drops of Life Essential oil diffuser
The three drops of life essential oil waterless diffuser can be your best choice if you prefer a stand-alone, beautifully designed nebulizing diffuser.
It will be perfectly compatible with your home or office as its innovative design allows it to fit into narrow spaces.
Pros
It can easily cover 1000-2000 square feet
PCB display to set concentration, hours, and day timings
No cleaning required
Low noise level, i.e., less than 42 dB
Eliminates odor replacing it with a refreshing aroma
It helps improve the immune system
Cons
Some users complained about leakages, and the device stopped working after some time of use.
25. AromaAllure Portable Essential Oil Diffuser
AromaAllure Essential Oil Diffuser is a fan diffuser that uses a ventilation method to create airflow without heat or water.
This palm-sized aroma diffuser is portable and ideal for personal use. You can easily blend your own fragrance on the pads to create a tranquil ambiance.
Pros
Covers up to 300 square feet
Built-in sound proof device for quiet operation
Small discreet light
No spills
No more rinse and clean
Wireless
Cons
Some users reported manufacturing faults.
26. Healing Waterless and Wireless Pure Essential Oil Diffuser
Healing Waterless diffuser atomizes essential oils directly into mist, releasing the fragrance gently. With its powerful fragrance potential, this diffuser can ideally create ambiance whether you're using it at home, office, car, yoga, and studio.
It is available in 5 different colors, including gold, silver, green, Black, and grey.
Pros
It covers upto 645 Square feet
Compact in size
Elegant design
Auto-off system
Three mist flow levels of atomization
Three levels of atomization time
100% safe and healthy for everyone
Wireless
Cons
This essential oil diffuser is loud.
27. LOXIM Pride Aromatherapy Diffusers
This is the professional-grade aromatherapy waterless diffuser by LOXIM for essential oils having full-spectrum oil adaptability. LOXIM's innovative atomizing technology ensures stable nebulizing.
LOXIM Pride Aromatherapy diffusers come in two colors (black and white) with an elegant minimalist look.
Pros
Covers up to 700 square feet large room
Safe for kids and adults
Comfortable and convenient to use as dilution of scents is not required.
Super quiet and operates at a noise level below 38dB.
Can run up to 8 total hours, once charged using the USB port
Cons
All types of essential oil bottles might not fit on this product.
28. AROMAPLAN Portable Waterless Diffuser
AROMAPLAN's essential oil diffuser is a nanotechnology-based device that converts oil or liquid perfumes into dry vaporous microparticles, evenly distributing the fragrance within a few minutes. It can help to reduce your stress, tiredness, and anxiety effortlessly.
Using this powerful essential oil diffuser, you can surround yourself with the powerful aroma wherever you go!
Pros
It covers 500 square feet
Completely safe for kids and pets
No residue
Quiet technology
Automatic mode
Scheduling system
Very economical spends only 1ml of oil per hour
Cons
Some people reported a bad experience with the app
29. JCloud Smart Waterless Essential Oil Diffuser
The JCloud waterless essential oil diffuser employs cold air diffusion technology to disperse the fragrance microdroplets in your home or office.
It provides an excellent aromatherapy experience by improving the air quality of your living space, making it free from dust, allergens, and dry air.
Pros
Scent can fill rooms up to1000 square feet
Safe for kids and pets
Very economical consumes only 0.5ml/h of essential oil when used at the highest grade
Smart control via app
30 days money-back guarantee and 1-year warranty
Cons
Some fault units were reported.
30. AromaHouse Scentball Aromatherapy Diffuser
AromaHouse Scentlbal waterless essential oil diffuser is a compact plug-in diffuser that gently uses mild heat to disperse aroma. Being cordless, it is ideal for multiple indoor uses.
Just add a few drops of your favorite essential oils to one of the pads and enjoy their powerful health benefits.
Pros
It covers up to 1000 square feet
BPA Free
No noise
Completely safe and CSA approved
Eco friendly
Affordable
Travel friendly
Worry-free return policy
Cons
Requires lots of essential oil droplets to work wells
31. Emma Waterless Nebulizing Essential Oil Diffuser
The Emma waterless nebulizing diffuser comes with a unique design that can stand out in any home. It is made of hevea wood and handmade ceramic.
Emma's waterless essential oil diffuser is based on airflow technology to blow away the mist. Here are some features that you'll want to be aware of while buying this product.
Pros
It covers more than 250 square feet
Controllable light intensity
Automatic running cycle, 1 minute on and 2 minutes off
It can work as a night lamp
The automatic shut-off function allows it to stop automatically after two hours of use
Cons
Adding too much oil can affect its atomization capacity, so make sure to add an optimum quantity. You can't leave this diffuser running for more than 2 hours due to its auto shut-off function.
32. KAKODA Nebulizing Aromatherapy Diffuser
This Kakoda battery-operated waterless aromatherapy diffuser atomizes the essential oils directly, emitting the fragrance immediately.
KAKODA diffuser comes in a sleek double nozzle design (detachable nozzles) that can be customized based on your mood, atmosphere, time, and place.
Pros
It covers 100 square meters
Anti-spill patented design
Intelligent timing system (5 working time options and six intermittent time settings)
Thirty working modes
Powerful battery timing-up to 250 hours
Quite(about 36dB)
Cons
You can't use water-soluble aromatic oils (containing water or flavor) as they can interfere with the device's proper functioning.
This product is quite expensive compared to its competitors.
33. ScentMate Hotel Scent Diffuser Machine
The ScentMate hotel scent diffusers adopt the latest two-fluid cold air atomization technology. The scent flows along with air and is released into HVAC ducts for a consistent aroma flow.
This large capacity diffuser can serve best in professional settings such as hotel lobbies, retail stores, and meeting rooms.
Pros
Covers small to medium-sized areas (1000-4000 square feet)
Stylish and compact
Stainless steel atomizer
Large capacity fragrance bottle
Built-in timer
whisper-quiet operation
Automated functions allowing low maintenance
Cons
This is quite expensive water less diffuser.
34. Aroma-Ace Essential Oil Atomizing Diffuser
The Aroma-Ace waterless diffuser comes with the most advanced essential oil atomization technology breaking the oils so small that they can stay suspended in the air for about 75 minutes.
This diffuser is perfectly tailored to your household needs. Regulated essential oil flow from this diffuser promises improvement in psychological and physical wellbeing. It is portable and available in 5 striking colors: black, blue, lavender, bronze, and green.
Pros
Covers an area of 1500 square feet
Flexile cycle control system
Aroma sound reducer attachment makes it super quiet
5-year warranty
Cons
You've to purchase the 'silencer' separately. However, it is available in specific Aroma Ace packages.
No built-in timer
35. Aromely Smart Nebulizing Scent Diffuser
Aromely aromatherapy diffuser uses cold air diffusion technology for essential oil atomization without any dripping or leakage.
You can connect this diffuser to an HVAC system creating a refreshing and natural spa-like aromatherapy environment at home. It is available in black and white color.
Pros
Perfect for rooms up to 4000 square feet
Can be controlled using WIFI
Controllable shut off and timer settings
No heat or water required
Safe for children, pets, and furniture
Cons
It is a very expensive waterless diffuser
Frequently Asked Questions
How does a waterless diffuser work?
A Waterless diffuser works by dispersing essential oils without using water or heat. An atomizer converts essential oil droplets into super fine microparticles and diffuses them into the air to be inhaled and absorbed by the body serving as the best aromatherapy device.
Using a waterless essential oil diffuser gives a pure, high-quality essential oil aroma creating an ambiance that can entice and uplift your mood.
How do you clean a waterless diffuser?
Here are some general waterless cleaning steps, although they might vary a little depending on the type of diffuser you might be using (It is best to consult the user manual first to look for any specific recommendations).
Unplug or turn off the waterless diffuser
Empty any residual oil present in the glass reservoir of the waterless diffuser
Use a wet microfiber cloth and add a few drops of a mild dishwashing liquid into it.
Clean the oil reservoir using a soapy cloth to remove stains or blockages and rinse it with fresh water
Drain the diffuser completely
You can use a cotton swab dipped in alcohol (Isopropanol) to clean the plate, corners, and tight spots for deep cleaning.
Dry the device with a clean dried cloth
Reassemble the diffuser, fill the oils and your waterless diffuser is ready for use.
.