Many people across the United States use diffusers to create warm and rich aromas throughout their homes. However, diffusers, like any other household appliance, require cleaning to continue working well.
Diffusers that are ultrasonic, nebulizing or waterless are the easiest to clean. Those that do not use a fan and have few parts that require disassembly for cleaning are the easiest to maintain. A diffuser should be drained and rinsed after each use and deep cleaned once a week to maintain a clean device and avoid mold or mineral build-up.
This post will go over what makes a diffuser easy to clean, highlight the top diffusers that are the easiest to clean, and explain how to best clean your diffuser.
Are diffusers hard to clean?
There are several different types of diffusers, and each uses a different mechanism to disperse essential oils. This makes some particularly hard to clean because they have a large number of parts to disassemble, hard-to-reach spots, or even small tank openings that do not fit a hand or brush for easy cleaning.
Diffusers with hard-to-reach spots usually encourage mold growth or mineral build-up if they are not frequently cleaned. While diffusers with fewer components to disassemble and larger openings or outlets, on the other hand, are generally easy to clean.
How hard or easy to clean a diffuser depends on the following factors;
Type of the diffuser– There are 4 main types of diffusers. Nebulizing, heat, evaporative or ultrasonic diffusers. When it comes to the easy-to-clean diffusers, ultrasonic and nebulizing diffusers are easier to clean than the rest.
Parts to disassemble– Some diffusers have a lot of parts to disassemble for maintenance or cleaning, while others do not. Those with fewer parts are the easiest to clean.
Includes a fan or not– Not all types of diffusers have fans, for example evaporative diffusers do, while most ultrasonic do not. A diffuser with a fan is considered hard to clean.
Dishwasher safe or not– Most diffusers are not dishwasher safe, but those that are dishwasher safe are considered easy to clean.
The reservoir, fan, filter, and external body are all aspects of the diffuser that need to be cleaned regularly. Disassembling diffusers is essential for easy cleaning by allowing every location to be accessed and cleaned to prevent potential mold development, or bacteria and/or mineral build-up.
There are now also waterless diffusers available – these have the advantage of not providing a moist environment for microbes (e.g., mold) to grow and generally makes for easier cleaning. However, these units are often smaller and battery-operated, compared to diffusers that use water to disperse the oils fragrance around a room.
Top diffusers that are easy to clean.
Here are 11 of the easiest-to-clean diffusers available now from Amazon, pureenrichment.com and homedics.com.
1. PureSpa 3-in-1 Oil Diffuser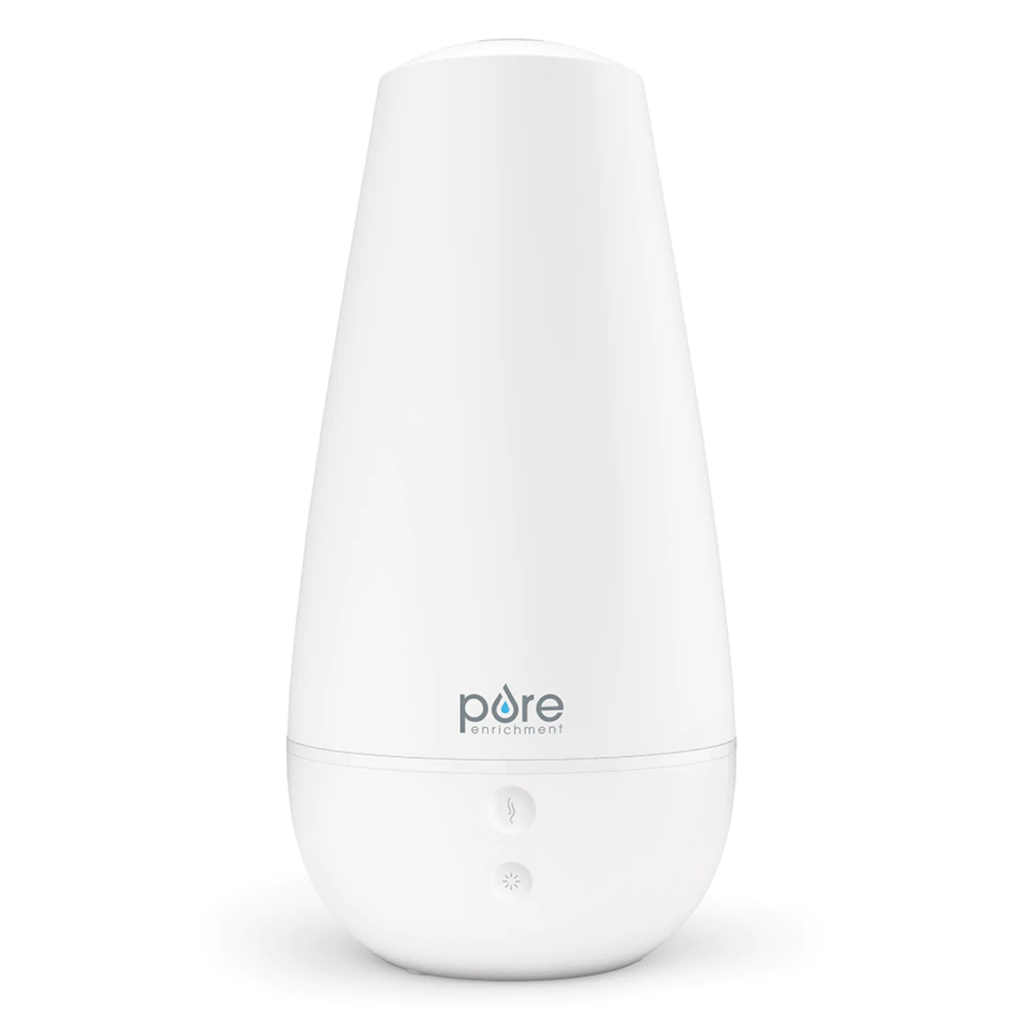 Pure enrichment's PureSpa 3-in-1 is an ultrasonic, cool mist essential oil diffuser that is very simple to clean. This diffuser makes it to the top of this list because it is an ultrasonic diffuser, with only a few removable parts, and does not include a filter or fan – making it super easy to clean.
To clean the PureSpa 3-in-1, simply lift off the water tank and twist the tank cap off (anti-clockwise). Drain and rinse the tank and base – refill and you are ready to diffuse your favorite aromas.
If you use your diffuser most days it is best to deep clean the diffuser once a week. This is equally easy and involves soaking the inside of the water tank with a 1:1 vinegar water solution before rinsing.
Because it creates a very strong mist, this diffuser can also be used as a humidifier, bringing moisture to your interior air to prevent dry skin, lips, and throat. With just one fill, its sleek 2-liter tank can diffuse and humidify surfaces up to 350 square feet for up to 50 hours. 
A gentle color-changing mood light with a unique color selection technology and a rainbow spectrum of light hues is also available to provide style and customization to the area where the user disperses. When not in use, the LED colors can be modified to the user's preferences and turned off.
Pros:
Can serve as a night light.
BPA-free.
Long run time.
Ultra-quiet operation device.
Strong and adjustable mist mode.
Suitable for small to medium rooms.
The product manual contains more information on how to clean and operate this diffuser and is available here.
2. Homedics Ultrasonic Wood Bottom Aroma Diffuser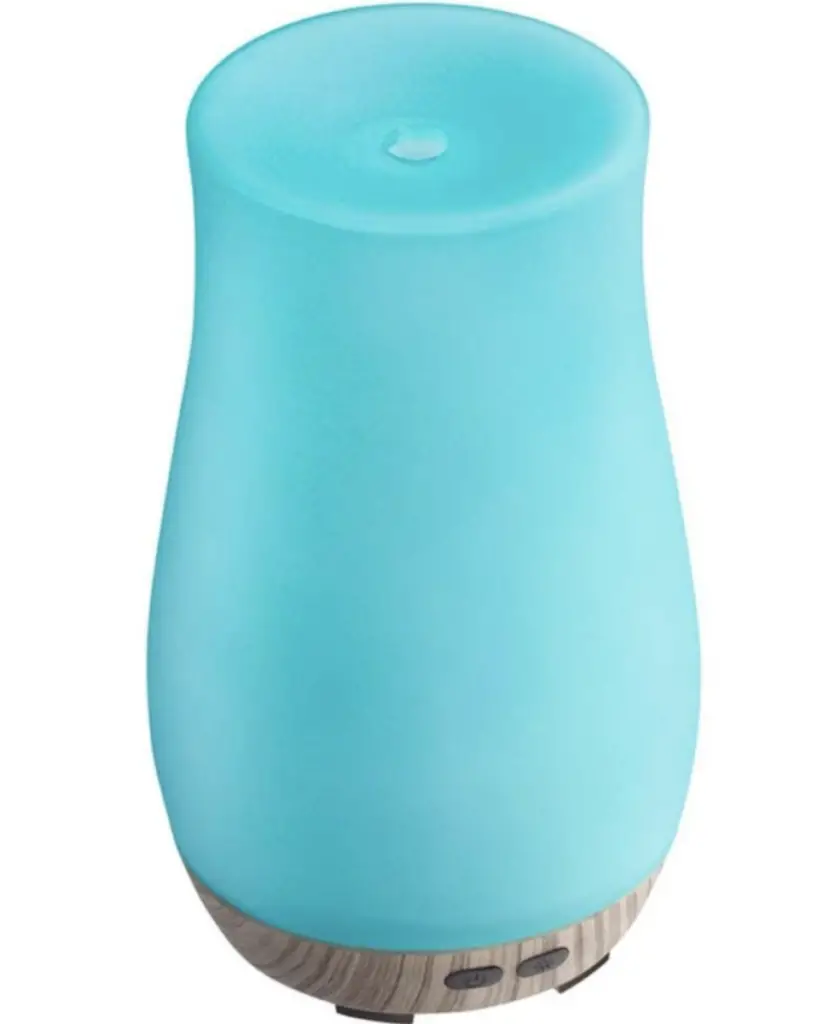 The Wood Bottom Aroma Diffuser by Homedics is the easiest to clean ultrasonic diffuser available. To clean simply unplug the unit and remove the outer and inner covers. Drain any remaining water or essential oils and rinse – be sure to pour the water out away from the air outlet!
The outside of the diffuser is wiped clean with a damp soft cloth, while the reservoir and membrane only need to be cleaned every 2 weeks. Homedics recommend pouring a 1:1 mixture of vinegar and water into the reservoir and let it soak for 5 minutes before brushing lightly with a soft-bristle brush before rinsing.
This diffuser can disperse the aromas for 6 hours continuously (or over 12 hours of intermittent use) with just 5-7 drops of your favorite essential oil. In fact, it comes with a 2-pack essential oil sampler, to help produce the perfect atmosphere and ambience in your home.
It also acts as a gorgeous night light that generates a gentle glow and peaceful environment.
Pros:
Night light.
BPA-free.
Long run time.
Ultra-quiet operation device.
Easy to use
3. LOXIM Pride Aromatherapy Diffuser
The LOXIM Pride Aromatherapy Diffuser is a simple to clean waterless, nebulizing diffuser. The LOXIM Pride diffuser is also at the top of this list because it's compact and doesn't have a water tank that needs to be cleaned regularly making it so easy to clean.
The lack of a water tank make it an exception to mold infestations and mineral buildup which is common in diffuser water tanks. Only a light wiping with a damp cloth is required and you call it a day.
The brand is one-of-a-kind, wireless, and portable, with the ability to cover up to 700 square feet. After charging with the USB connector, the built-in lithium rechargeable battery provides up to 8 hours of operation.
Pros:
Quiet operation(38 dB).
Suitable for larger rooms.
Cons:
Because it does not use water, a larger quantity of essential oil is usually used.
4. Bloomy Lotus Bamboo Nebulizing Diffuser.
Bloomy lotus is also a fantastic nebulizing diffuser that is easy to clean. This diffuser does not include a water tank, does not require any disassembly, and neither does it include a fan nor a filter. That makes it very easy to clean hence the appearance among the top diffusers that are easy to clean. Because of its design, little to no cleaning is required, making cleaning a breeze by simply wiping it out with a damp cloth.
It can disperse medium to large rooms of up to 860 square feet. It also provides options for 1H, 2H, and 5H runtimes and high and low mist modes.
Pros:
Easy to use.
Quiet operation diffuser.
5. Mooka essential oil diffuser 
The Mooka is an essential oil diffuser that can also function as a humidifier and is one of the easiest diffusers to clean. It's simple to clean because it's little and disassembled. There are only three parts to disassemble: the cap, the tank, and the base.
The 2-liter water tank allows it to disperse and humidify a 350 sq ft area for around 21 hours of continuous operation, giving you peace of mind.
It contains an auto-shutoff mechanism, a 180-degree nozzle for managing high/low mist, and a 7-LED color-changing feature that can be changed or turned off completely.
Pros:
Easy to use.
BPA-free.
Quiet operation(28 dB).
Can serve as a night light.
Auto shut-off feature.
Adjustable mist setting and energy-saving device.
Cons:
Not suitable for very large rooms.
6. ASAKUKI essential oil diffuser.
This diffuser by Asakuki is a simple-to-clean ultrasonic essential oil diffuser and humidifier with a multifunction aromatherapy feature.
The diffuser has a spacious and easy-to-clean 700ml water tank with a wide reservoir hole that makes fitting in a brush or sponge easy.
It also has 7 distinct LED light colors, multiple mist dispersion settings, and a safety auto-switch to prevent it from overheating if the water runs out.
Pros:
Easy to use.
Quiet operation(30 dB).
Automatic shut-off feature.
Long-running time.
Dishwasher safe.
Cons:
Some reviewers complain about leaks at the base.
7. BZseed Essential Oil Diffuser
BZseed is a 500 mL cool mist ultrasonic essential oil diffuser set that also acts as a humidifier to help relieve symptoms of dry lips, throat, and nose. It's one of the easiest diffusers to clean. It is easy to clean because it has a wide mouth opening, few parts to disassemble, and does not include a filter.
It also incorporates a color-changing mood light that allows you to select the light mode that best matches your needs, making it a color-changing scent diffuser for your bedroom. It comes with seven calming colors and one cycle lighting mode. It is also aesthetically appealing making it great for house decorations.
Pros:
Easy to use.
BPA-free.
Auto shut-off feature.
Can serve as a night light.
Timer options.
8. Urpower 700ml Aromatherapy Oil Diffuser
Urpower is an ultrasonic essential oil diffuser that can also serve as a humidifier. It's one of the easiest diffusers to clean. The easy-to-assemble feature and a wide mouth where the user's hand can easily fit for cleaning are two of the features that make it easy to clean. It also lacks a filter, which makes cleaning hektik and time-consuming in most circumstances.
This diffuser features a larger water tank (700mL), allowing it to run for extended periods of time without needing to be refilled. It can run for up to 20 hours on low fan settings and 10 hours on high operating speed because of the larger tank. It also has a timer and fan settings that can be adjusted.
The diffuser has a sleek square shape with seven color-changing LED lights that may be used as a night light. The colors are vibrant and stunning, and a light setting allows you to decrease the brightness while in use.
The timer settings allow you to program your device to run for a specific amount of time. Depending on your preferences or needs, you can book for one hour, three hours, or six hours.
It is designed to shut down when the device runs out of water. This makes it an excellent diffuser and humidifier to use during the day and at night without having to worry about not being able to turn it off when it runs out of water.
Pros:
Can serve as a night light.
Quiet operation device.
Automatic shut-off feature.
Cons:
Some reviewers complain about leakage.
9. Now diffuser
The Now diffuser is an easy-to-clean essential oil diffuser. It is easy to clean as it is small and effortless to disassemble with few parts to disassemble.
It features a color-changing LED mood light that the user can adjust or turn off. This type of diffuser is aesthetically appealing and hence can also serve as decoration to the space it disperses. It can work for up to 6 hours of operation with a single fill.
Pros:
BPA-free.
Auto shut-off feature.
10. XANAPHIA nebulizing diffuser
XANAPHIA nebulizing diffuser is an easy-to-clean diffuser because it does not include a water tank and is completely waterless. There is no room for mineral buildup or mold infestation, which are usual in diffusers water tanks.
Pros:
BPA-free.
Quiet operation(38 dB).
It covers larger rooms.
11. Sierra Modern Home Smart WiFi Wireless 
The Sierra Modern Home is an easy-to-clean 400ml smart Wi-Fi wireless essential oil aromatherapy diffuser. The convenience of cleaning is due to the fact that it is simple to disassemble, has only two parts to disassemble; the base and cover, and has a large hole large enough for a hand to clean.
The device is also voice control compatible with Amazon Echo, Google Home, and Alexa, making it simple to operate.
Pros:
Easy to use.
Compatible with Alexa.
Auto shut-off feature.
Has a timer.
Can serve as a night light.
Cons:
Some reviewers say it starts peeling off; hence might be dangerous.
FAQ
Do diffusers need to be cleaned?
All diffusers require cleaning. After every use, a diffuser needs to be rinsed with water to remove essential oil residue, dirt, and old water. A diffuser should be deep cleaned once a week. Mold infestations, bacteria, or mineral build-ups in the reservoir are common if the diffuser is not cleaned regularly
Weekly and monthly cleaning are also important to the user's well-being and the lifespan of the device. Failure to do that may trigger asthma attacks or breathing difficulties in people with mold allergies or sinus problems.
What is the best way to clean a diffuser?
The best way to clean a diffuser is by rinsing it daily, and deep cleaning it once a week. To deep clean, soak the water reservoir in a 1:1 vinegar – water solution and gently wipe the other components down with the same solution. Rinse the reservoir several times, and wipe over the diffuser with a clean cloth.
Follow these easy steps to always have a clean diffuser:
How to clean a diffuser
A diffuser should be:
Rinsed after every use.
Cleaned weekly if used regularly (or monthly, if not)
Descaled to get rid of mold build-up by deep cleaning when necessary.
It is best to clean a diffuser by rinsing it with clean water and wiping it dry after every use. A regular cleaning routine is usually advised to keep the diffuser in check, and last but not least, deep cleaning the diffuser in case of problems such as mold infestation or scale build-up.
To clean a diffuser, you may be required to use white vinegar, hydrogen peroxide, rubbing alcohol, or bleach, and water. Follow the general steps below for a clean diffuser:
Switch off the power and unplug the unit.
Drain the remaining essential oil or water.
Disassemble it and clean it one after another.
Allow time for the parts to dry, and reassemble them before the next use.
Note: NEVER touch an ultrasonic membrane with your fingers. The natural oils in skin can damage the membrane.