According to US Energy Information Administration, fans are used in 87% of U.S. homes, both with and without air conditioning. On average, US homes have two to three ceiling fans and one table, floor, or window fan. However, many fans are low-quality, and it can be challenging to find good, durable, US-made fans.
Several premium fan brands, including Pure Enrichment and Westinghouse, are designed, tested, and manufactured in the United States. Investing in US-made fans means you'll not only receive a durable, high-quality fan with local customer support, but are also supporting local businesses and the economy.
Several other brands are designed in the United States, but are manufactured in other countries. This post will take you through the best fans actually made in the USA, including detailed information on their special features, specifications, and any pros and cons.
The Best Fans Made in the USA
Here are the best fans made in the USA. To check the availability and latest prices, click on the name of each product and it will take you to Amazon or the brand's website.
1. Pure Enrichment® PEFANDUO Fan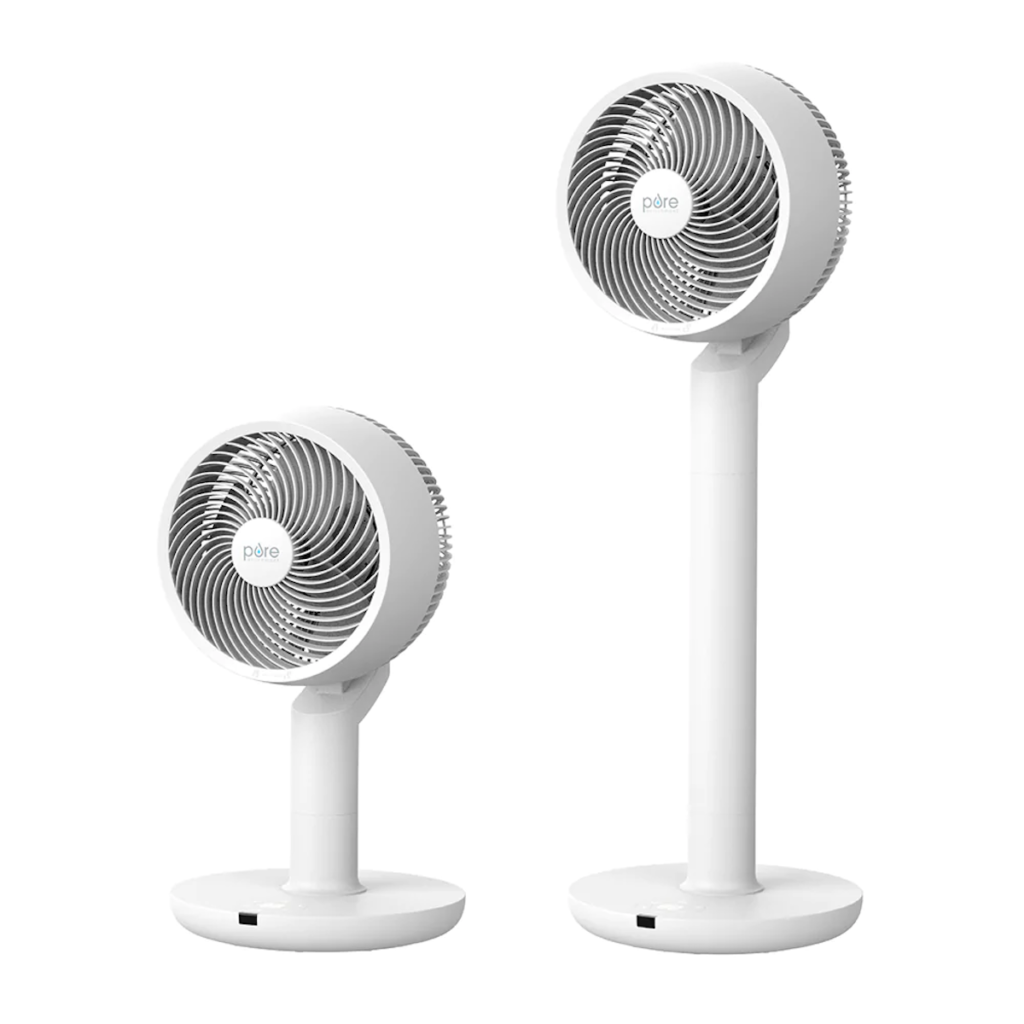 Pure Enrichment features a two-in-one circulating desk and floor fan made in the USA (Santa Ana, California). It is a high-capacity fan that can cover large areas of up to 50 feet. This product is at the top of our list because of its vertical and horizontal oscillation (between 80°-160° airflow) and 24 fan speeds for efficient air circulation.
You can control the device with an optional remote control within a range of 32 feet. The auto timer also allows you to choose from 15 pre-programmed timer (1-15 hours) settings.
One of the unique features of this device is the sleep mode that allows a peaceful sleep at night with a gradually decreasing fan speed and reduced noise.
The 12.25 x 12.25 x 35 inches sleek and elegant white-colored device weighs 9.7 pounds, making it a medium-sized floor and desktop fan, ideal for home use, kitchen counters, bedroom, dressers, or office desks.
Pure Enrichment also boasts an aromatherapy PureBreeze™ Personal Handheld Fan with Base.
Pros
Low noise (25dB at Low level and 60dB at high level)
Easy to use
6ft power cord included
Multidirectional airflow
Lightweight
Energy efficient
5-years warranty
2. Vornado OSCR37 AE Tower Circulator fan
Vornado offers a wide range of pedestals, clip-on and tower fans manufactured in Kansas, USA. The Vornado oscillating  OSCR37 tower fan is one of the best floor fans that provide a whole room air circulation covering spaces up to 75 ft.
This model comes with two modes of operation that distinguish it from other fans on our list: 1) a constant whole room air circulation and 2) optional oscillation. The oscillation uses advanced Vornado power to provide smooth and quiet comfort through the cool air. You can also set the timer between 3-12 hours.
The fan settings can be easily controlled through the Alexa app via voice command or using a smartphone. You can set the speed and timer options using sensitive touch control. The lightweight (10 pounds), sleek, modern black-colored design allows it to fit perfectly in small spaces. You can easily enjoy a calm and powerful breeze on the go.
Pros
Quiet operation
Energy efficient
6ft power cord included
5-year warranty
Cons
A few customers complained that the fan didn't last as long as they expected.
3. Lasko Tower Fan
Lasko manufacture a powerful whole room Tower Fan (T42951) made in the USA.
This device outperforms others on our list in terms of effectiveness and includes a fused Lasko Blue safety Plug to protect against damage caused by power surges or over voltages.
It comes with an oscillation function to distribute air perfectly over large areas (1143 ft./min). You can customize the cooling effect and speed with three adjustable settings (low, medium, and high). You can also set the programmable auto-timer from 0.5 to 7.5 hours for worry-free continuous operation followed by auto shut-off.
With a built-in handle, weighing only 15.5 pounds, and standing 42 inches tall, this tower fan is portable and easy to assemble.
A quiet nighttime setting that fades LED automatically reduces the speed so that you can sleep peacefully. The settings can be customized using either the control panel or remote control. One of the most distinctive features of this device is built-in onboard remote control storage to keep the remote at hand.
This ETL-listed model has a black, sleek and minimalist 13 x 13 x 42.5-inch design, allowing it to fit into various areas such as RVs, bedrooms, living rooms, kitchens, and offices. However, this one is the tallest tower fan on our list.
Lasko also offers a wide range of other clip-on, pedestal and tower fans.
Pros
Low noise (52dB maximum noise level)
Built-in handle for portability
Easy to assemble and use
Energy efficient
Cons
A few customers complained that the fan is noisy.
Only 1-year warranty
The Remote is delicate, and no replacement is available.
4. Air King 9119 Pedestal Fan
The Air King 9119 18-inch fan pedestal is manufactured in the United States (West Chester, PA) using domestic and imported parts. This powerful commercial-grade fan can provide a continuous breeze in any environment, including hospitals, offices, homes, and schools.
Depending upon the space, you can easily adjust the fan height from 37 to 53.75 inches, the tallest pedestal fan on our list.
This ETL-listed model measures 20.25 x 20.25 x 53.75 inches weighs only 11.30 pounds and can be easily moved from one room to another. Despite the large size, this elegantly styled fan has made into our list because of its high efficiency over large areas, durability, powerful motors and grounded plugs.
Other notable features of this model include a manual rear-mounted dial control, three-speed adjustment options, optional oscillation, white color, and a tilt-back fan head.
Pros
Low noise(43-51dB)
6ft power cord is included
Easy to assemble
Easy to clean
Cons
No remote control option
Only 1-year limited warranty
5. Westinghouse WSFTDXS42L Tower Fan
Westinghouse offers floor, wall, tower and desktop fans manufactured in the USA. The Westinghouse WSFTDXS42L tower fan boasts a strong airflow capacity making it suitable for outdoor and indoor use. The remarkable 80o oscillation, adjustable head, and three-speed settings provide extensive coverage in small to large spaces.
This device can be controlled remotely from up to 16 feet away (using a remote control) and from an angle of 30 degrees left or right from the control panel.
This is an aesthetically pleasing tower fan with a clean, sleek look, LED display, and digital control panel that seamlessly fits into the design. A large multicolored LED display is one of the unique features of this fan. With the silent operation, this is truly a non-interfering tower fan for any space.
This tower fan measures 42.3 x 8.9 x 8.2 inches in size and weighs 8.73 pounds, which makes it tall and compact allowing it to fit into small spaces.
Pros
Space-saving
Energy efficient
Lightweight
Cons
The temperature cannot be changed from Celsius to Fahrenheit.
A bit noisy
6. Matthews ME-BK Melody Fan
The Matthews fans are made in the USA(Illinois). The Melody Matthew fans are high-capacity fans for a wide range of coverage over large areas. They are ideal for bedrooms, offices, kitchens, and living rooms.
The remote control allows you to control oscillation (90o) and three-speed options easily. With arch nouveau style and arching gooseneck, this fan can perfectly complement any décor. You can change the motor angle and fan projection simply by altering the gooseneck. It comes in matte black and textured bronze colors.
With 13 x 13 x 20 inches dimensions and 16 pounds weight, which makes it the smallest fan on our list. This compact little fan can be easily moved from one place to another.
Pros
White noise
Easy to use
Easy to clean
Limited Lifetime warranty
7. Schaefer TW24B-TPQR Fan
Schaefer offers a Wide range of pedestal, box and cart fans made in the USA from both imported and local parts. The TW24B-TPQR Schaefer pedestal fans are OSHA-compliant fans with powerful airflow capacity. These fans can be mounted on a tripod stand (included), wall, ceiling, or cart making them ideal for home or commercial use.
The twister oscillating fans can rotate to 90o, covering areas of up to 4000 sq. ft. The powder-coated steel guards make it corrosion free and reliable.
This stylish fan with a tripod stand measures 48 x 48 x 40 inches, weighing 62 Pounds. This is the largest and heaviest fan on our list.
Pros
Easy to use
Easy to clean
Energy efficient
2-years warranty
Cons
Heavy compared to other products on the list.
8. Americraft Fans
Americraft offers various sized fans for personnel and commercial uses, all manufactured in the USA (Cincinnati, Ohio). The Model DA fans are low-stand portable fans available in various sizes from 18" to 60".
You can even use this fan in hazardous locations due to OSHA compliance and explosion-proof motors. Optional caster sets are also available. The concentric circle wire guards are mounted on the fan's rear and back sides.
Pros
Low noise
Easy to maintain
Energy efficient
Cons
9. Air Innovations Fan
The Air Innovations fans are made in Miramar, Florida, United States. This high-efficiency fan comes with a swirl cool technology for efficient air distribution without actually moving the fan.  
With an adjustable stand 36" to 42" high and moveable fan head (45o up and down), you can direct the air wherever you want. The LED dimmer, three-speed settings, swirl cool on and off, and timer settings (1-7 hours) are other prominent features. This multi-purpose fan can be used on a desktop or tabletop, simply remove the fan stand and attach a tabletop support bracket (included).
With an elegant white-colored design and convenient cord wrap feature, this device is ideal for homes or offices.
You can remotely control the device via remote control. These lightweights (7.5 pounds) and portable fans are medium-sized and measure 15 x 20 x 36 inches, requiring less space than most oscillating pedestal fans. These ETL-listed fans are available in cream, wine and cobalt colors.
Air Innovation also features fans without a remote-control function.
Pros
 7.10 ft power cord included
Low noise
Lightweight
Energy efficient
Cons
1-year Limited Manufacturer's Warranty
10. Patterson Fan
PATTERSON's fans are manufactured in the United States (Blythewood, SC). These powerful industrial-grade fans with two-speed options can be used in homes, garages or outdoors. You can choose from three different sizes 18″, 24″ and 30″.
This model provides two options the pedestal mount and column wall mount. You can adjust the height of the pedestal mount from 42-72 inches. The pedestal base measures 33-inch which makes it easily fit into any space.
The 18, 24 and 30 inches fans weigh 43,50 and 54 pounds respectively. They are a bit heavy fans compared to others on the list.
The PATTERSONS cage fan comes in a simple blue-colored traditional design.
Pros
Occupational Safety and Health Administration(OSHA) compliant
Easy to maintain
Powerful airflow
10 ft power cord included
Thermally protected
Cons
Only 1-year warranty
No remote control function